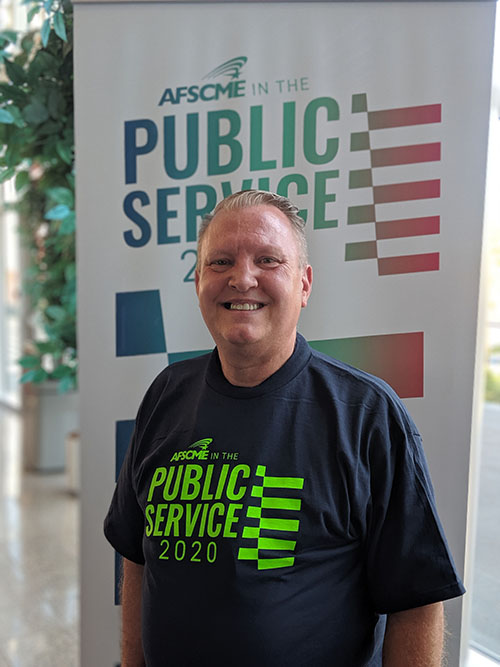 It's back-to-school season, a time when many students feel anxious about the year ahead. College, especially, can be a difficult transition, and more so for young adults who are learning their way around a new campus without being able to see it clearly – or at all.
AFSCME Local 4041 member Larry Coffey, the winner of a Never Quit Service Award, provides crucial assistance for such clients.
Coffey, based in Las Vegas, works as a certified orientation and mobility specialist at the Nevada Department of Employment, Training and Rehabilitation and Employment (DETR) in the Division of Vocational Rehabilitation (VR). VR assists people with physical or mental disabilities to access or maintain employment, including clients with visual impairments that can range from severe low vision to no-light perception.
Most of Coffey's clientele is arriving at the University of Nevada, Las Vegas (UNLV), as the upcoming semester gets under way. He assists students in what he refers to as "transitioning ages." Generally, his clients are transitioning between high school or college age, although he works with people of all ages.
"Every time I get a student who goes out there, I end up walking the campus to figure out some of the ways they can get around," says Coffey. "Some of them are totally blind and for the most part follow edges referred to as shorelines."
The UNLV campus is 358 acres – or the size of 267 football fields. For clients with little to no light perception, it can be extremely challenging to get around. Coffey's commitment to supporting these students is crucial to helping them navigate golf carts, vegetation, construction, large open spaces, and a whole range of other obstacles.
"My clients keep me in awe all the time. I am amazed and proud at how independent they are and how successful they are," he says. "To be honest, I don't know if I would have the guts to do it."
Coffey teaches students the proper techniques for using the mobility cane, crossing streets, riding the bus and going up and down stairs, among other things.
"That's the thing I love about my profession," he says. "We have such an impact on people's lives and really impact the quality of life. … I enjoy working with this population. I'm not in it for the money. It's a calling."