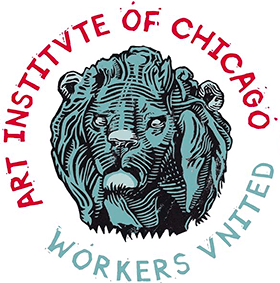 CHICAGO – Staff at the Art Institute of Chicago (AIC) and the School of the Art Institute of Chicago (SAIC) voted overwhelmingly to form their union with AFSCME Council 31 in mail-ballot elections tallied Jan. 11 and 12. The two groups have joined together as AICWU – the Art Institute of Chicago Workers United.
The historic result makes AICWU the first union at a major museum in the city. More than 500 employees will be part of the new union, including everyone from custodians to curators, library workers to gift shop employees, student advisors to receptionists, and more. (Read prior coverage here and here).
Overwhelming majorities of both units voted yes for their union and to combine so-called "professional" and "nonprofessional" job titles into one bargaining unit that's stronger together. Next, the new union members will prepare to begin negotiations for their first contract.
"Winning our union means a voice in our workplace and a chance to improve working conditions for ourselves, our colleagues, and those who will follow us for generations to come," said Anna Feuer, a museum archivist.
"This is a watershed moment," said Erica Warren, an assistant museum curator. "AICWU has proven that collective action is growing, and we will make the museum field more accessible and equitable, paving the way for future generations of workers in the arts."
"My colleagues and I are building a new foundation at SAIC, one based on transparency, equity and better working conditions," said AICWU activist Myia Brown, assistant director of career and professional experience at the school.
Mike Zapata, an AICWU activist and an SAIC academic advisor, said, "Workers at SAIC are fighting for better pay, more stability, equity and a voice in our futures."
"SAIC and Art Institute employees coming together in their union is inspiring," AFSCME Council 31 Executive Director Roberta Lynch said. "I know they will use their voice to make the museum and the school better places to work, visit and learn. While these are the first major cultural institutions to organize in Chicago, they won't be the last. Anyone in the cultural sector who's interested in winning a voice on the job should contact us for help in building a union of your own."
AFSCME represents some 10,000 museum workers at 91 cultural institutions nationwide and more than 25,000 library workers at 275 public and private libraries, including the Chicago Public Library, the Abraham Lincoln Presidential Library and Museum, the Library of Congress, the New York Public Library, the Met, the Brooklyn Museum, the American Museum of Natural History, the Milwaukee Public Museum and many more.