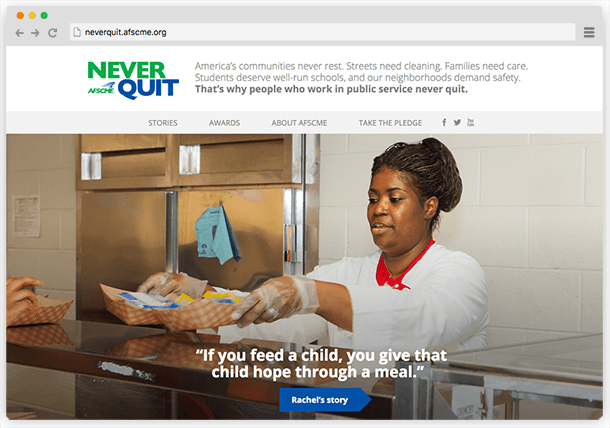 Our union has 1.6 million powerful stories to tell and individuals to recognize. Members like Rachel Cooper, a school cafeteria manager who's working to bring healthy foods to the 1,500 children she feeds every day. "If you feed a child, you give that child hope through a meal," says Rachel. Or Ronnie Roberts, who comes out after every storm to clear debris from the streets so his neighbors can get to work.
Rachel, Ronnie and so many like them embody the spirit of pride in public service. It's a "Never Quit" spirit. Because public service isn't just a job. It's a calling.
We've launched a Never Quit website to honor the spirit that defines AFSCME members like Rachel and Ronnie.
The centerpiece of this project is the Never Quit Service Award. This is your chance to share your story or to recognize a co-worker who takes great pride in their work (no matter how big or small); who brings a smile to the faces of the people they serve or work with; or who just simply never quits doing the best job they can.
We'll add the stories of award winners to the Never Quit website, joining the stories of Rachel, Ronnie and a few other members who embody the "Never Quit" spirit. Do you know someone whose commitment to public service inspires you? Visit the website to nominate someone for the Never Quit Service Award.