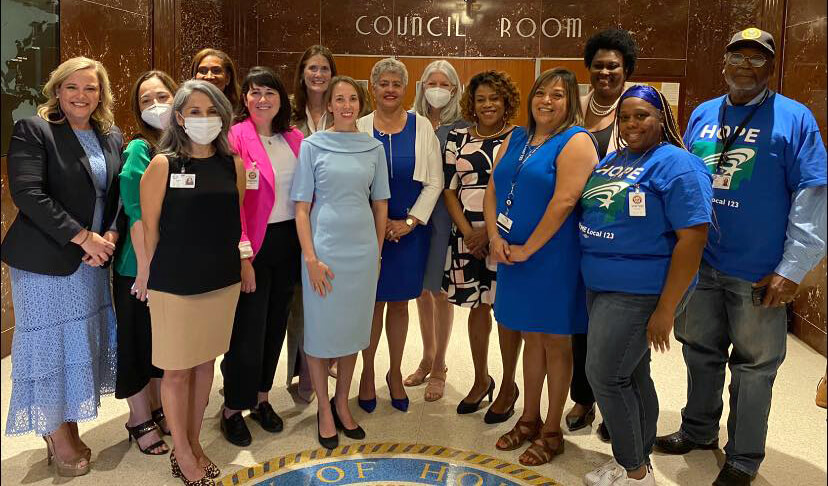 HOUSTON – Thanks to the advocacy of HOPE AFSCME Local 123 members, City of Houston employees will now have access to paid parental leave for the first time.
On April 13, the Houston City Council unanimously passed a resolution granting all 21,000 city employees 12 weeks of paid parental leave starting in May.
Support for the policy gained momentum last summer with the support of Council Member Abbie Kamin. For months, HOPE members came together to call, email and lobby the city council. They also spoke at council meetings on the impact paid parental leave would have on employees and the services they provide.
"My baby won't be the last baby of a city employee," new mom Brianna Nelson, a Houston Emergency Center 911 call-taker and HOPE member, said at the April 13 council meeting. "Paid parental leave gives me the security and peace of mind (of) knowing that I won't have to choose between time with my baby and the important work I do as a 911 call-taker. When new families are taken care of, we can continue to take care of the families in our community."
HOPE member leader Carmen P. Abrego, a community outreach coordinator for the libraries and member of the city's Women's Commission, said that by coming together HOPE members made important improvements to the lives of all city workers.
"Every change we make here, with the city being one of the largest employers in Houston, has a definite impact on the rest of our communities. Because of the activism of our union, this policy will make a significant difference in the lives of so many employees and their families," said Abrego.