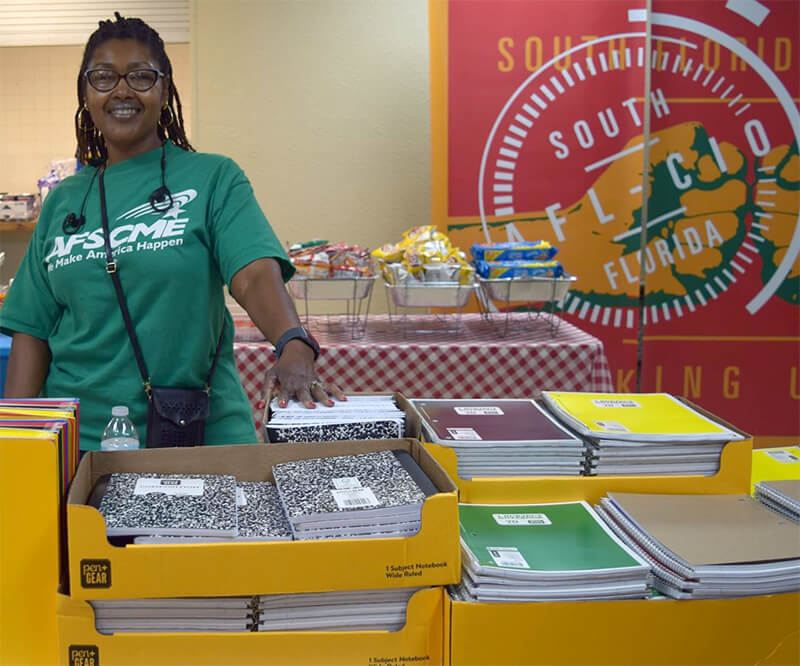 Hundreds of students across Florida are going back to school this year with a boost of confidence and new backpacks filled with everything they'll need for school, thanks to AFSCME members across the state.
Council 79 (AFSCME Florida) held back-to-school cookout events in five cities this past weekend, from the Panhandle to Miami, to prepare students for the 2019-2020 school year.
"The children are our future," said Vicki Hall, president of AFSCME Florida. "We do this to make sure students start the year off on the right foot and have the best possible chance of success."
In Jacksonville alone, AFSCME gave out more than 400 backpacks to local families.
"This is an important event in our community," said Mary Blocker-Williams, vice president of Council 79, Region 1, and a patient care associate at University of Florida-Health Jacksonville, Local 1328. "It takes the stress and worry off of parents who may be struggling, and the sense of self-assuredness on the faces of the children as they put on the backpacks and prepared to start the school year was priceless."
School supplies were especially appreciated in Chattahoochee, where Tallulah Thomas, president of Local 1963, set up a cookout at the state hospital for local AFSCME members and families.
"This is an area still reeling from a devastating hurricane," said Thomas. "When times are hard, AFSCME is there to give back, and even something like school supplies can go a long way in helping working families."
With prices of basic school supplies going up each year, the costs can become overwhelming. Studies show that providing children with their own supplies helps them with grades, attitudes, creativity, peer relationships and even their self-image.
AFSCME Florida members are proud to ensure that so many of their state's future leaders have the tools they need to succeed.