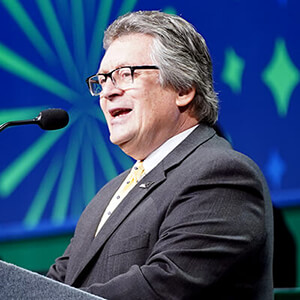 The 45th AFSCME International Convention kicked off Monday with a somber yet uplifting remembrance program honoring former President Jerry McEntee, who died Sunday at age 87.
A visionary leader who led AFSCME for 31 years, McEntee was one of the most fearless, ferocious advocates working people have ever had. He set up one of the labor movement's strongest organizing programs that led to robust growth for our union.
Before he took over the reins of AFSCME International, the Philadelphia native followed his father's footsteps and cut his teeth right in his beloved city and commonwealth.
Retiring AFSCME Vice President Dave Fillman, former executive director of Council 13 in Harrisburg, Pa.; Ernest Garrett, president of District Council 33 in Philadelphia; and Dave Henderson, current executive director of Council 13, discussed McEntee's life and legacy.
Convention attendees also watched a moving McEntee tribute video.