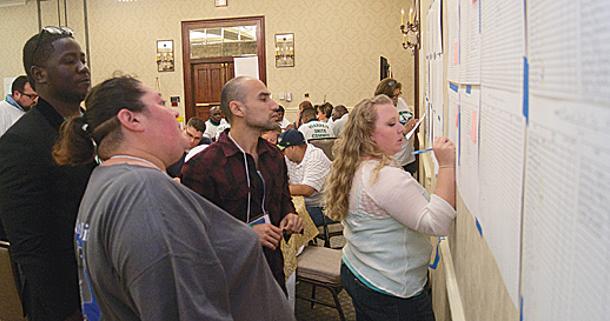 In Florida, recent threats at the state and federal level have motivated AFSCME members to make internal organizing a top priority for their union.
AFSCME Local 1554, which represents employees of the City of Miami Beach, recently completed the first part of an organizing blitz aimed at signing up 60 percent of workers in the unit as full members.
"Our numbers were a little under 50 percent, but after four days of organizing we are above 53 percent," said Local Pres. Carlos George.
Forty agency fee payers made the switch, including a number of part-timers.
In Texas, members of AFSCME Texas Corrections hosted a highly-attended AFSCME Texas Leadership Summit, kicked off a two-week blitz and held statewide ratification meetings. The result? They've signed up new members, developed more leaders and agreed unanimously to support the official AFSCME Texas platform.
"We came together to address real problems that became our platform," said Sgt. Tanisha Woods of Gatesville. "We want to fix problems like staffing levels that aren't safe, [and] we deserve quality equipment."
"We spoke with members at work sites where they had never heard of the union before and we signed up over 70 new members!" said Joseph Bell of Beaumont.