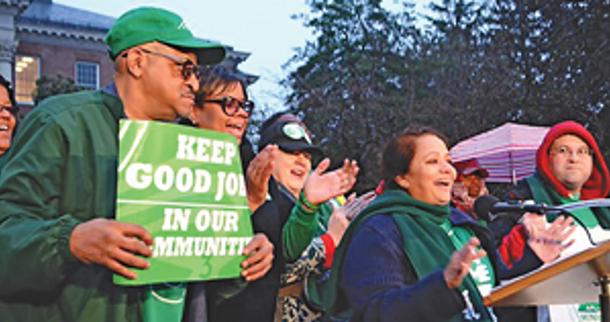 Maryland Gov. Larry Hogan should have thought to ask Manisha Patel how she felt about her job before he tried to outsource it to a private contractor. Then he would have learned that to Patel, a food service worker at Springfield Hospital Center in Sykesville, her work is more than just a job.
"I work with patients who have mental problems," she says. "And I've learned how to serve them and how to make them happy. Sometimes only your smile works. They see our faces and they tell us what they need. If you help people and human beings, it's a kind of prayer. That's how I feel whenever I work there. I love what I do."
When the governor tried to outsource Patel's and 56 other dietary services jobs at Springfield, she and her colleagues rallied. The outsourcing threat extended to 15 positions at Western Maryland Hospital Center in Hagerstown and 11 at the John L. Gildner Regional Institute for Children and Adolescents in Rockville.
Through their union, AFSCME Council 3, the workers organized to fight back the outsourcing threat. They reached out to small businesses in the area to alert them of the governor's plan and its potentially negative economic consequences. Local elected officials and community leaders also heard from the workers and rallied behind them. And they succeeded.
"AFSCME Strong was already in place before the outsourcing announcement was made, and it was having the program in place that made this fight possible," said Patrick Moran, president of Council 3. "We were ready for a challenge like this.