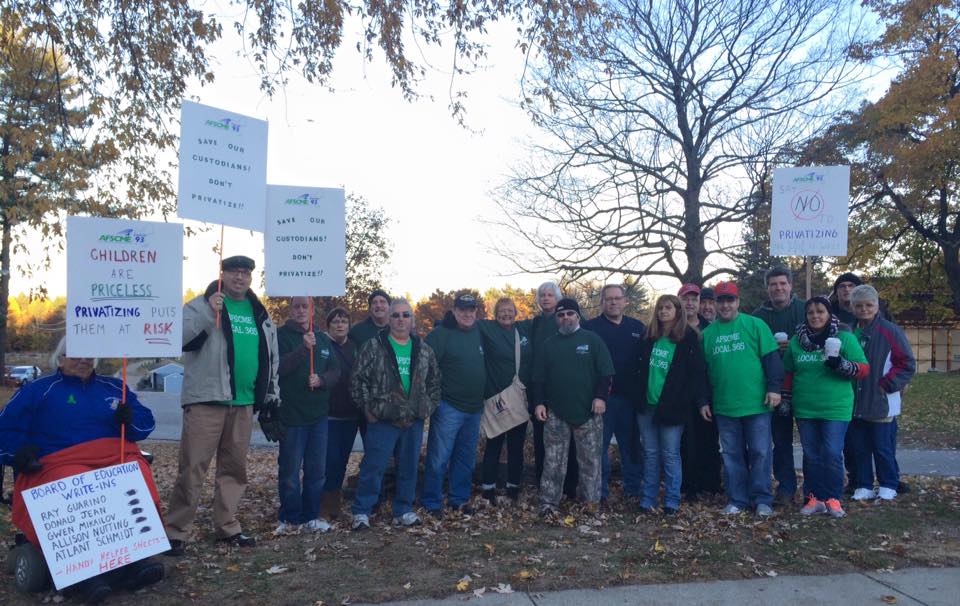 A four-year battle to keep their jobs and gain a new contract has ended in victory for 135 Nashua, New Hampshire school custodians, maintenance and security personnel, members of AFSCME Local 365 (Council 93).
On October 29, the Nashua School Board signed a five-year deal with the workers. Members ratified the deal 41-2 in August. The agreement is retroactive to July 1, 2016, and runs through June 30, 2021.
For most members of the local, just keeping their jobs, let alone winning a new contract that includes 3% and 4% raises, seemed like a long shot.
In September 2015, the 101 custodians at the school district were blindsided by an 8-1 school board vote to replace them with a private contractor for the 2016-17 school year. Chapter chairperson and head custodian Donna Grady said she was informed the next day about the board's decision.
Members of Local 365 – all of them – rallied to the cause. While the board's decision only affected custodians, maintenance and security members immediately fought alongside their sisters and brothers in the custodial unit.
"They were there. They showed up with us," Grady said. "It's their union. That's how they felt."
They showed up at school board and aldermanic meetings, mayoral debates, community events and the ballot box. At many of the events, Local 365 members were also joined by Nashua Teachers Union members. They fought back against the board, filing legal challenges and unfair labor practices charges, and they rallied the community to their cause.
Meanwhile, the school board members discovered privatization was not a simple solution, as contractors couldn't meet criteria and even blew off meetings.
In the 2017 school board elections, all five Local 365-endorsed candidates won seats. In February 2018, the board voted 6-1 to halt privatization efforts.
Another 1½ years passed before the board and union agreed on a fact-finder report that preserved language that bars members from being replaced with contractors.
Grady said Council 93's support was also instrumental for strategy, legwork and morale.
"It felt like it wasn't just us. The council was really behind us," she said.
Council 93 Executive Director Mark Bernard said it's the council's job to provide members with the guidance and support they need when they're in a fight like this.
"This is a textbook example of how powerful our union can be when we work as a team with our local leaders and activists," Bernard said. "Virtually every tactic was implemented in Nashua. We used legal strategies, political action, media and community relations, and of course, aggressive action at the bargaining table. But the key component of this win was our members. They followed our advice and did everything we asked them to do and more."
Grady said that even though they were fighting for their jobs, the custodians were still there for the students who have grown to depend on them for more than just clean buildings. They were there greeting them with hugs or high fives, and to fix jacket zippers or anything else they were called on to do.
"The custodians went to work every day, even though they were trying to get rid of us," she said. "The lesson for everyone is go to work, do your job and show them you can't be replaced."