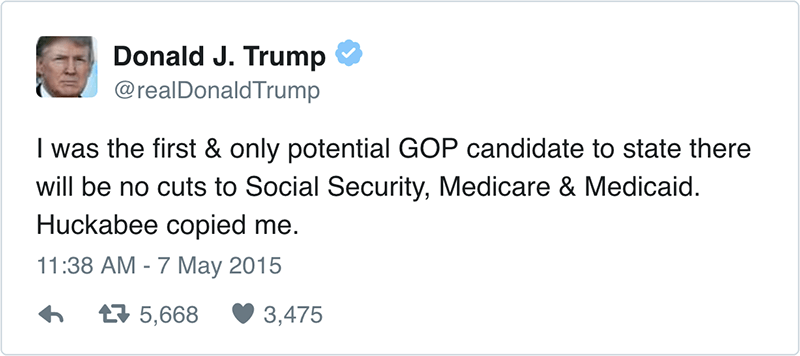 Donald Trump won the presidency on a promise to stand up for working Americans. One of his earliest vows was to protect those federal programs that help so many working families, such as Social Security and Medicaid.
The morning after the 2016 election, AFSCME made a commitment to hold Trump accountable to his campaign promises. And we are.
Last week, Trump released a budget proposal with big cuts to the very programs he had vowed to protect.
From Medicaid, he would cut $610 billion, setting the health care program for the poor on a path to being halved by the year 2028. These drastic cuts are on top of the more than $800 billion that the House health care bill known as the American Health Care Act (AHCA) would take away from Medicaid over 10 years. Trump called the AHCA "a great plan."
We strenuously disagree. Here are some facts about Medicaid and Medicaid cuts that AFSCME has unearthed:
1 in 5 Americans rely on it for their health insurance
Half of all recipients are children
Seniors will have less access to nursing home and home care services if the cuts go through
There will be job losses in health care fields, particularly homecare and in hospitals, and even in school systems nationwide.
The dramatic effects these cuts will have on schools haven't received much attention. Public schools receive Medicaid funding to provide various services for children with disabilities, including performing health screenings such as vision and hearing tests. Cutting Medicaid would not just put those services in danger, it would also jeopardize the jobs of 17 percent of school nurses, 27 percent of school social workers or 19 percent of school counselors and psychologists nationally.
Medicaid is often described as a health care program for the poor and the disabled, but it's much more than that. Medicaid and the Children's Health Insurance Program (CHIP) help more than 74 million Americans get the health care they need. Many of them are exactly the working families whom Trump promised to help.
It's no secret that Trump wants to cut Medicaid and other federal programs so he can give himself and other wealthy people a big tax cut.
With every promise Trump breaks, we get a glimpse of his real behind-the-scenes motivators: greed and self-interest. It's hard to believe working Americans would've voted for him had they known his true intentions.