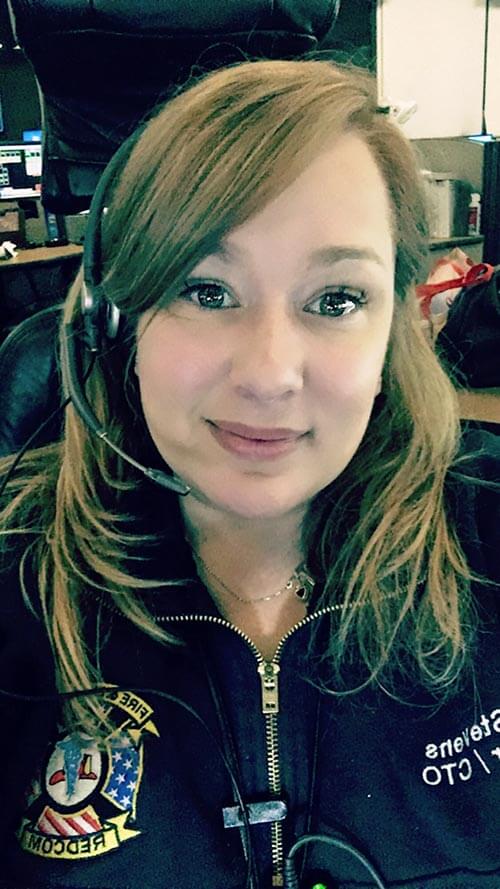 For Evonne Stevens, a 14-year veteran 911 dispatcher, the night of one of California's deadliest wildfires began innocuously enough. A co-worker's kid was interviewing her for a school report. He wanted to know what a typical workday looked like.
"It's kind of ironic now," said Stevens, a member of United EMS Workers (AFSCME Local 4911).  "I said that on a typical night we might get a car accident, maybe an elderly person falling down."
That was around 7 p.m. on Sunday, October 8. Her shift – and what would prove to be the most terrifying night of her life – was just getting started. Some rescue personnel worked 25 days straight, Stevens said.
That evening's call volume started out pretty normally, recalls Stevens, who works at Santa Rosa-based Redwood Empire Dispatch and Communications Authority (REDCOM). REDCOM provides secondary 911 services for Sonoma County, part of Northern California's wine region.  
 "We heard of a little firebug in Santa Rosa county," said Stevens. But she and her coworkers didn't think much of it at the time. "But then we started hearing about a few structure fires. Then a few more fires started cropping up in different places. By 9:15," said Stevens, "things were getting crazy. The fire was sweeping all over the place."
From about 10 p.m. on, the calls – some 300-400 an hour – didn't stop.
What would come to be known as the Tubbs Fire, would eventually kill 43 people, cause $1 billion in damage and destroy 8,800 homes and structures. Over the next many days, it spread with shocking speed and forced the evacuation of more than 100,000 people. A big culprit: winds that gusted over 50 miles an hour. In no time, said Stevens, all regular fire resources – dispatchers, fire engines and firefighters – were overcome.