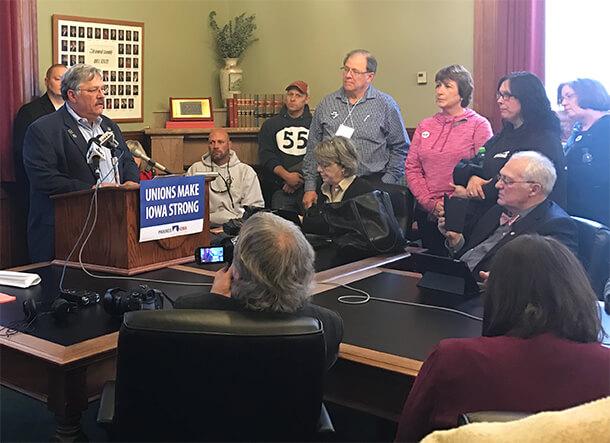 Todd Copley, a public service worker in Polk County, Iowa, wants the politicians who are prepared to take away his union-negotiated workplace rights to understand why this would be a tragic mistake – not just for him and 180,000 other Iowa teachers, mental health workers, corrections officers, nurses and other public service workers, but for all Iowans.
Copley is a carpenter and furniture maker who also works as a Polk County snow plow driver, a job the residents of his community depend on for their safety. He has a voice on the job through his union, Local 1868 (AFSCME Council 61).
The Iowa Legislature is poised to put all public service workers in danger of losing the collective bargaining rights that Copely and his co-workers depend on. Right-wing lawmakers took control of the House, the Senate and the governor's office in Iowa for the first time in nearly two decades.
Copley was among the AFSCME members fighting back.
"We care deeply about our community," he testified Wednesday at the Iowa House Labor subcommittee. "Public employees never quit on our communities. We're not in it to get rich and it's not glamorous, but we get up every day and make Iowa a better place to live. That means something and we deserve a voice in our state."
Thousands firefighters and other public and private-sector union members rallied at the Capitol this week to oppose proposals aimed at revoking collective bargaining for public service workers and making other changes aimed at undermining public service unions.
Once these changes become law (Gov. Terry Branstad is expected to sign the legislation when it reaches his desk in the coming week), base wages will be the only thing that public service workers like Copley can bargain over with the state, said Danny Homan, president of Council 61, which represents 40,000 public employees throughout Iowa.
"Wages are not the most important thing that we want to bargain over. It is health insurance, layoffs, transfers, said Homan, who's also an AFSCME International vice president. "It's all those other elements in the contract."
Negotiating for better safety provisions for workers, health insurance, evaluation procedures, benefits and other issues that have been permitted through collective bargaining would be eliminated for most public service workers under the proposed changes.
Since Iowa is a right-to-work state, the changes would not only affect union members, but also those public service workers who are not members of a union but who receive the benefits of a collective bargaining agreement.
Exempted from most of the proposed changes are public safety officers, including firefighters and police officers, because they work in dangerous jobs. Yet corrections officers, who also face danger every day at work, are not exempted from the changes. This makes no sense, unless their real motivation is to drive a wedge between unions.
Current Iowa law, which allows collective bargaining over working conditions, benefits and so much more, is fair to workers and to the employers and taxpayers who depend on people like Copley to serve their communities.
These attacks on public service workers are not new, and they keep on coming. But AFSCME will never quit fighting to protect workers' rights because AFSCME members never quit on their communities. Read more how we are building a stronger union every day.