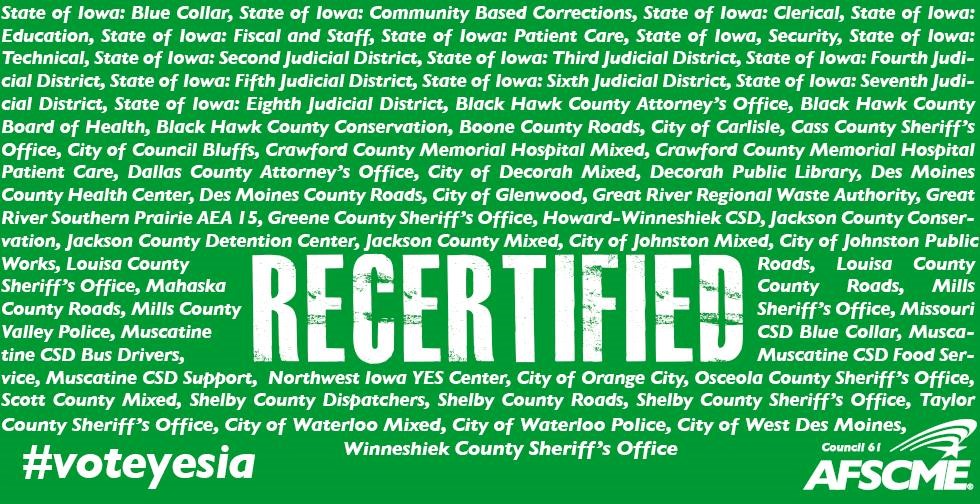 Members of AFSCME Council 61 (Iowa) issued a resounding statement of solidarity – with each other and with their union – by voting yet again to recertify their union.
"For the third year in a row, Iowa public service workers have made it clear that they value their unity, their voice on the job, and their union by overwhelmingly voting in favor of recertification," Council 61 President Danny Homan said, referring to Tuesday's vote.
In 2017, when Iowa's longstanding collective bargaining laws were gutted, onerous recertification rules were put in place that not only required each bargaining unit to vote to recertify their union, but counted employees who chose not to vote as "no" votes.
AFSCME represents 40,000 workers across a wide spectrum of job categories, from law enforcement and corrections officers, to health care workers, librarians and more. Workers are required to reconfirm their intentions to remain united through AFSCME each time their collective bargaining agreement expires.
Tuesday's votes were cast by nearly 3,500 employees working in local governments and schools throughout Iowa. Ninety-five percent of them voted to recertify.
"The everyday heroes who work day in and day out to carry out the public services in our communities have far better things to do than redundantly vote to retain their workplace rights," said Homan, adding that AFSCME members in Iowa remain unwavering in their demand for a voice on the job, and the freedom that comes with being a part of a union.
"We are pleased to see that 52 AFSCME-covered bargaining units won their recertification votes," Homan said. "In a system where those who do not participate are counted as no votes, achieving a 95% approval makes it clear that public service workers will not be deterred by the continued efforts to take their rights away. These workers never quit on their communities, nor will they quit on their union."
Tuesday's recertification offers further evidence that workers understand the power in joining together through a union. Union approval is at a near 50-year high, and workers across a range of professions – from journalists to grocery store workers, from nurses to behavioral health workers – are uniting for a seat at the table. Union approval has been reflected in waves of recent worker actions, underscoring the desire of many Americans to join forces to unrig a system that favors the wealthy and the powerful.