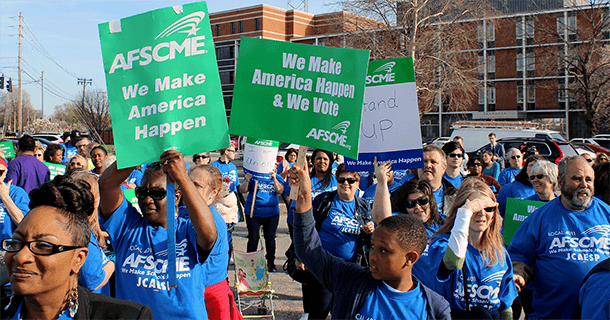 Some 250 members of Indiana/Kentucky Council 962 from throughout the state, including Local 4011, rallied before the Jefferson County School Board met earlier this month to draw attention to the county's poverty level wages, short-staffing and an increase in classroom responsibilities.
With contract negotiations set for the summer, members of Jefferson County Schools Local 4011 stood up and put the school board on notice that they are united and frustrated by issues that management arbitrarily change or brush aside.
Recently, the county proposed changing the work of bus monitors, instructional assistants and Head Start/Pre-K workers without consulting the union. Deciding to stand up for their rights, 47 employees recommitted to AFSCME or converted to full union membership during an emergency meeting of the local union to plan for upcoming labor-management committee meetings.
After their rally, activists filled the school board meeting room, an overflow room and the lobby, chanting, "We're out of the classrooms and into the street; organized workers can't be beat."
"It's not just money. It's about respect and dignity," said Sandy Mayes, a Local 4011 member and president of Jefferson County Association of Educational Support Personnel.
"I love my job," said Rhonda Young, an instructional assistant for the county schools and Local 4011 member. "But right now, I have to say, financially, I can't afford my job."
This is not the first time the union has rallied outside Jefferson County School offices to gain public attention over the school board's negotiating priorities. If the county won't listen to its workers, it most likely won't be the last.