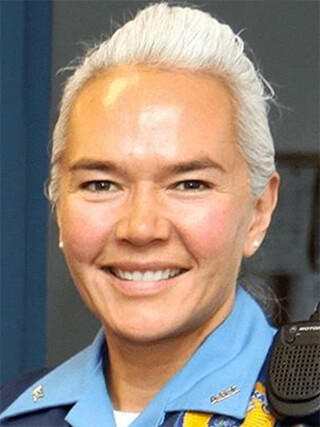 Anne Sears, a former member of the AFSCME-affiliated Public Safety Employees Association, Local 803 (PSEA), never imagined being a police officer as a child, but she knew she felt called to help people and serve as a role model.
"I had parents that told me I could do whatever, even be president, but certainly I never thought I would get into law enforcement. And I did," Sears said in an interview in October with Alaska Public Media. "You know, when I was in the village, and people would realize where I was from, they took some pride in that. And I hope that maybe some other little girls and boys from the village think they can do the same thing that I did."
Sears, her husband Jay, who was also a state trooper, and their colleagues were also the stars of the now-canceled reality television series, "Alaska State Troopers," which aired on the National Geographic channel from 2009 to 2015. With assignments taking her all over Alaska, working in both its largest cities and smallest towns, it was this reality show that made Sears a popular figure when interacting with the public.
"That show opened a lot of doors for me just in the villages alone because people would, of course, recognize me, they'd want to take pictures with me," she said. "Even folks I was dealing with that I was having to arrest, eventually, after things, you know, settled down, we would talk about the show and seeing me on the show. It was an amazing thing to be a part of."
Sears was popular not just in her community; she also was respected by Alaska's elected officials, including the governor. In 2017, when she won an AFSCME Never Quit Service Award for going above and beyond the call of duty in serving her community, then-Gov. Bill Walker sent a letter of congratulations and Fairbanks Mayor Jim Tankersley attended a ceremony held in her honor.
Yet, despite how much Sears may have loved her career and improved the lives of her fellow Alaskans, there came a time when she was ready to hang up her hat. As she looks ahead toward retirement, Sears sees nothing but possibilities.
"I worked for 43 years. You know, kind of coming up to my retirement date, it felt really strange just thinking that I'm not going to be working after all this time," said Sears. "And now it feels like a relief. Like, I'm free. I can do whatever I want, whenever I want. I feel pretty amazing."