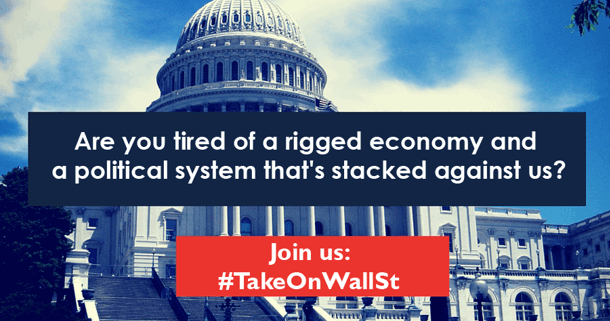 Although it's been more than eight years since Wall Street sent us into the worst financial crisis since the Great Depression, not enough has been done to prevent the next crisis. In fact the "too big to fail" banks are now even bigger than they were then!
We still have a long way to go to make sure our political system and our economy work for working people—and aren't rigged in favor of the wealthy and well-connected. That's why AFSCME has joined forces with other labor unions and progressive groups to demand that our elected leaders take on Wall Street.
We joined strong leaders like Sens. Elizabeth Warren (D-Mass.) and Tammy Baldwin (D-Wis.) on Tuesday, as well as tens of thousands of community activists and consumer advocates to launch the "Take On Wall Street" campaign.
And we're asking everyone to sign this petition telling Congress that we won't stand for Wall Street bankers and hedge fund managers rigging the political system and the economy for their benefit.
Take On Wall Street has an ambitious vision to bring fairness to our financial system and to make the economy work for working people. Today, we're putting Congress on notice that it needs to take action to:
End the carried interest tax loophole that lets billionaire Wall Street fund managers pay taxes at a lower rate than teachers.
Close the CEO bonus loophole that subsidizes corporations for astronomical executive salaries.
Pass the 21st Century Glass-Steagall Act to make banks smaller, simpler and safer.
Create a tax on Wall Street's trades that would generate billions in revenue for schools and to fix our crumbling bridges.
Promote affordable and fair financial services—like postal banking—so working people don't have to rely on predatory schemes like payday loans.
Let's come together to demand that our leaders take on Wall Street and stand up for the systemic changes that all working families deserve.