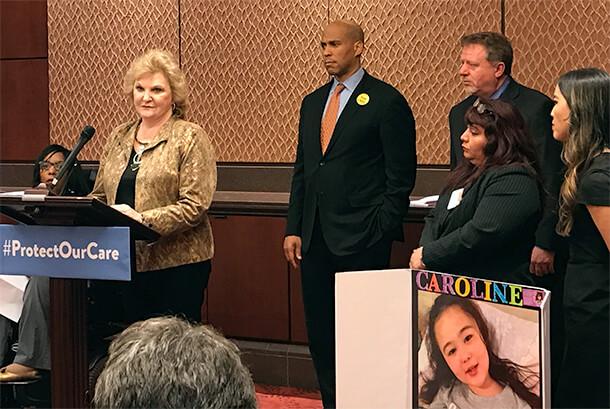 As the U.S. House of Representatives gets ready to vote on a bill that threatens to leave millions of people without health insurance, AFSCME retiree Patricia Byrd went to Capitol Hill with a clear message: Hands off our Medicaid.
A former social worker from Panama City, Florida, Byrd worked for 27 years to help families in need afford the medical care they needed. She saw firsthand the way Medicaid can change lives for the better. And she knows Medicaid saves countless lives every day.
Medicaid is also very personal to Byrd, whose 92-year-old mother is wheelchair bound and has dementia. She is in a nursing home and needs around-the-clock care paid for by Medicaid that Byrd and her husband couldn't possibly afford out of pocket.
Her story is the story of millions of Americans. She knows this not just because of her experience as a social worker, but also because the more she speaks out, the more she hears from families like hers.
"Our story is not unique," Byrd said at a press conference on Capitol Hill on Wednesday. "There are millions of families in situations just like mine. I've seen them up close, I've lived this my whole life."
Byrd sent a passionate plea to Congress and President Donald Trump on behalf the working families whose lives depend on Medicaid and the Affordable Care Act. She was joined by New Jersey Sen. Corey Booker.
"Medicaid is a lifesaving program that lifts up countless families," Byrd said. "These are our parents, our children, and our family members, and one day it may even be you. So please, hands off our Medicaid."