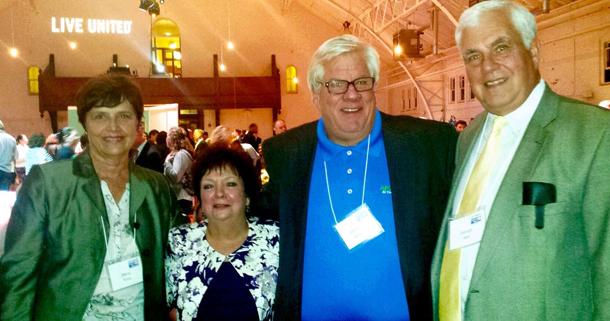 Lynn Loveday, state vice president of AFSCME Council 94, was recently honored by the United Way of Rhode Island for her leadership to increase labor's efforts to help her state's homeless population.
Loveday was presented last month with United Way's Dante Mollo Labor Award by Rhode Island AFL-CIO Pres. George Nee. In accepting the award, Loveday said her desire to help others began at a young age. "My parents instilled in me a sense of responsibility to those less fortunate," she said. "Building a bridge between my labor family and the work of the United Way seemed to be a great way to get our members active in the community."
Following Loveday's lead, other local leaders of Council 94, as well as leaders of other Rhode Island labor unions, also got involved helping the homeless.
"My sister Lynn has been vital in bringing other unions on board with her work for the homeless," said Council 94 Pres. J. Michael Downey. "I am so proud of her. She embodies the commitment that all Council 94 members have daily as they go to work to make Rhode Island a place we are all proud to call home."
Loveday has vowed to continue her work with the United Way "until everyone in Rhode Island has the life they deserve."