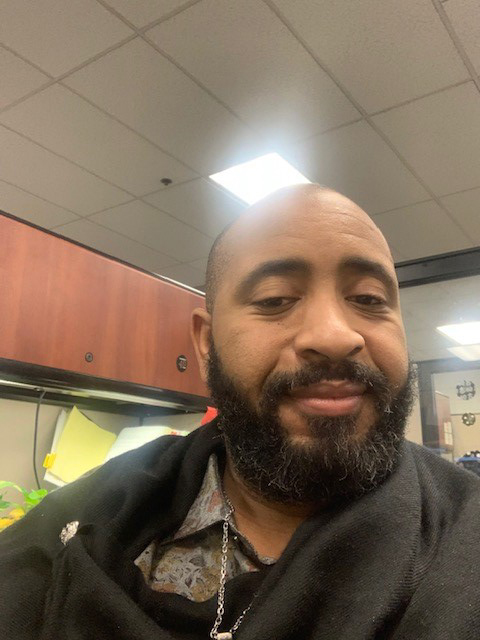 As the nation continues to cope with the coronavirus outbreak, public service workers on the front lines are answering the call when their communities need them the most.
Some of those everyday heroes include state employees who process unemployment claims – heroes like Jason Suggs.
"Unemployment is very emotional. We are reaching into people's very personal situations. And we have to take that on, set it aside, provide comfort, apply the law and then be able to move on to the next person," said Suggs, an unemployment insurance professional in Maryland and president of AFSCME Local 3641 (Council 3). "It's tough, right now it's tiring, but we're proud to be there for them."
The coronavirus has brought about a public health crisis with devastating life-and-death consequences. Nearly 560,000 people in the United States are sick, and more than 22,000 have died. To make matters worse, this is also a brutal economic crisis, the likes of which we have not seen in our lifetimes.
In mid-March, new unemployment claims across the U.S. skyrocketed from 282,000 to 3.3 million. But that was only the beginning. The following week, it more than doubled to nearly 6.9 million. And last Friday, the Labor Department reported another 6.6 million new claims for the week ending April 4.
As a result, state unemployment agencies across the country are getting slammed. In Maryland, nearly a quarter of a million residents have filed for unemployment benefits in the past month, with just over half of those coming in the last week. Claims last week were higher in number than the claims filed in all of 2019.
Behind every one of those jobless claims is a family that's having sleepless nights – worried about how they're going to make the rent or buy groceries this week or keep the lights on. Also behind those numbers is a public service worker committed to making sure people who have been laid off, through no fault of their own, get the help they need.
"You have to have some compassion, sympathy, and empathy," said Suggs. "That's part of what makes this work uniquely special. But we're facing some major issues … fueled by a lack of resources."
In 2008 and 2009, Congress authorized federally funded extensions of unemployment benefits to help those who lost jobs during the Great Recession. Suggs recalls his office experiencing a spike in calls then as well, but there was a key difference: "We had adequate staffing levels, which made the process not as lengthy for the claimant," he explained.
Between retirement and people leaving, Suggs' office has lost a significant portion of its workforce over the years. "The hiring process and the pay rate is making it difficult to get people in and trained in time. Just fixing that part of the process would make a lot of the weight go away," Suggs said.
Like many states, Maryland was woefully unprepared for the huge flood of claims by workers who have been impacted by coronavirus-related layoffs.
"These days, our office is serving more claimants than ever before. That's increasing call volume. That's increasing wait times. And that's increasing frustrations. The first thing someone says to you is, 'I've been on hold for four hours.' Yes, four hours," said Suggs.
Starting this week, jobless Marylanders will be able to get help to file their claims on Saturdays. The state is adding servers to support the influx of online applications and detailing hundreds of state employees and contractors to help with receiving and processing unemployment claims.
Congress has approved more than $2 trillion in aid for coronavirus relief, but it's not enough.
AFSCME is asking Congress to ensure that the next COVID-19 response bill provides at least $300 billion in additional direct, unrestricted funds for state and local governments to rebuild public services.
Suggs is proud to serve fellow Marylanders in their time of need.
"The connection you make with the claimants, the 'God bless yous' and the 'thank yous' at the end of a call – those are the things that make this work rewarding," Suggs said. "This will be a long road ahead, but we're AFSCME. This is what we do."