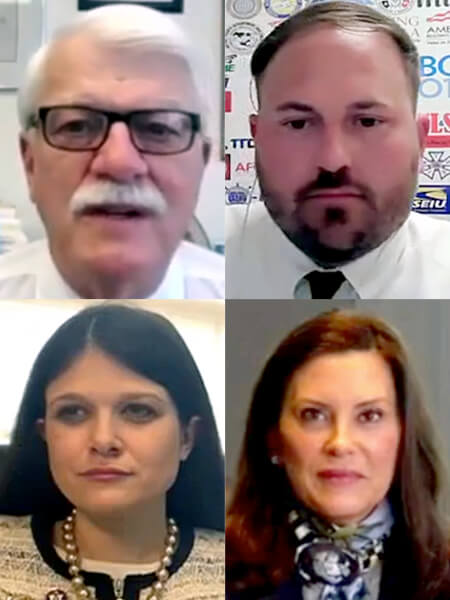 Michigan Gov. Gretchen Whitmer and Rep. Haley Stevens (D-Mich.) on Wednesday joined AFSCME members in praising the American Rescue Plan (ARP) for the many ways in which it is already benefitting communities in the state.
In a virtual press call hosted by AFSCME Council 25 President Lawrence Roehrig, Whitmer and Stevens joined Chris Wayne, a groundskeeper at Michigan State University and member of AFSCME Local 1585, to discuss the many ways in which the ARP is already making a difference in the lives of public service workers, working families across Michigan, and entire communities.
"After months of hard work and sacrifices, I am so happy to finally say help is here," Whitmer said. "The passage of President Biden's American Rescue Plan will allow us to turn on a new lead and ensure that we will invest in public health, education, infrastructure and other public services that our communities depend on to thrive."
Michigan is set to receive $6.6 billion in state aid, $4 billion in local aid and nearly $3.9 billion for K-12 schools, according to the White House.
Stevens said passage of the ARP would not have been possible without the "incredible activism and engagement" of AFSCME members who raised their voices and told their stories to make it happen. The new law, she said, is delivering "tangible resources" to Americans that are making it possible for working families to put food on the table, pay their bills, maintain health care coverage and stay safe.
Looking back over an unprecedented year, Wayne, who is a chief steward for his local, said the pandemic challenged employees at the university "like never before."
"Overnight, students were asked to stay home and continue their classes remotely," he said. "In-person graduation ceremonies were cancelled, and many of us were fearful that with the university mostly closed, we would lose our jobs."
Although they didn't lose their jobs, they were furloughed.
With the ARP in place, however, Wayne and his co-workers "are hopeful that the furloughs will soon come to an end, especially as universities across the country plan to fully reopen their campuses again," he said.
Roehrig, who is also an AFSCME vice president, emphasized the role that AFSCME members and organized labor played in making the ARP a reality and celebrated the "road to recovery" it represents.
"It gives all of us the ability to be proud of being Michiganders and to be people who care about one another regardless of what our party affiliation is," he said.