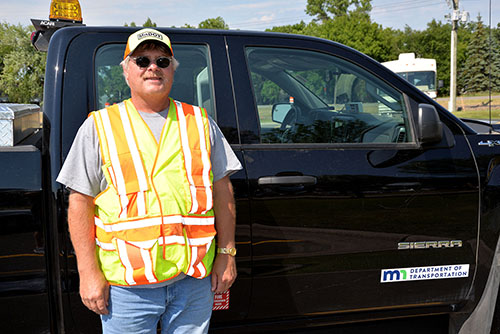 Minnesota Department of Transportation (MnDOT) worker Doug Zarling was driving down the highway when he noticed something strange out of the corner of his eye.
He saw a tiny plane taking off from the local airport, and it was going a little slowly.
"He wasn't climbing, not going higher at all. He wasn't taking off like he wanted to go somewhere," Zarling says. "I was wondering what he was doing. He just banked to the right. That's when he pretty much went straight down in the dirt."
Zarling's co-worker, Erik Fitzgerald, was right behind him. The pair called 911, then dashed to the site of the wreckage.
"We could hear him in there yelling for help," Zarling says, recalling the June 20 crash in Mahnomen, near the Minnesota-North Dakota border.
Fitzgerald talked to the pilot and asked how he was doing. They noticed the plane was leaking gas.
"We figured we'd better get him out of there," Zarling says. "We unbuckled him and dragged him out 50 to 75 feet away from the plane."
A few more people arrived and shut off the gas from the plane.
"I'm just glad it didn't blow up or anything," Zarling says. "It was good we got him out of there. It could have caught fire."
The patient was airlifted to a hospital in Fargo, N.D.
Zarling, a transportation specialist who works as a chief inspector on construction projects, has been with MnDOT for 41 years. He started out as a student worker like Fitzgerald. Zarling's a trustee with AFSCME Local 637.
He brushes aside any notion their actions were heroic.
"I didn't think it was heroic – I just wanted to make sure the pilot got out of plane," Zarling says. "Anyone else would have done the same thing. Good thing I was in the right place at the right time."
To read more about the rescue, go here.