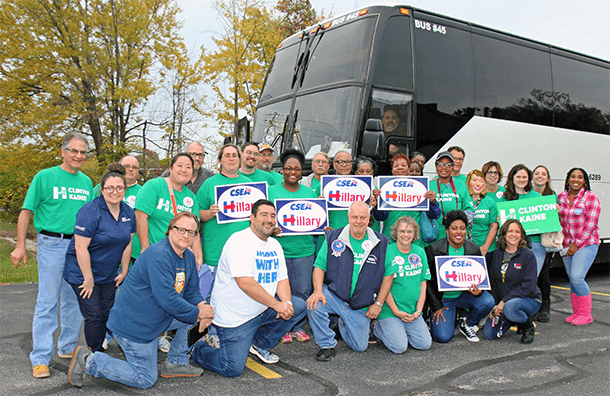 For the past two months, not a weekend has passed without AFSCME members descending on battleground states. Members from New York, Maryland, Delaware, Massachusetts and California awoke at the crack of dawn to board buses bound for battlegrounds like Pennsylvania, Ohio, New Hampshire and Nevada. Members knocked tens of thousands of doors and made hundreds of phone calls to get out the vote throughout our country.
Getting Out the Vote in the Buckeye State
"When talking to members about this defining election, it is important for them to hear from their fellow union members," said Yvonne Griffin, City of Cleveland Tax Division. "It is nice to have the extra boots on the ground to help spread the word. We can talk to more people. This is what solidarity looks like." This election will be won or lost based on our ability to turn out the votes for our candidates.
Key Health Care Issues in the Keystone State
"As a unit clerk at Temple University Hospital, I see how political choices impact people's everyday life," said 1199C member, Charlene Cooper. "Sometimes my patients have to make real, sobering decisions about purchasing their medicine," added Cooper. "Our Senate candidate Katie McGinty and Secretary Hillary Clinton have both said they'll do everything they can to lower the price of prescription drugs. I'm thankful for my AFSCME sisters and brothers who came to help me spread that message."
On September 15, AFSCME DC 33, along with DC 47 and 1199C NUHHCE, co-hosted a huge rally with members from New York DC 37 and 1707 and Maryland Councils 3 and 67. On that Saturday alone, members knocked more than 5,000 doors in Philadelphia.
Living Free in the Granite State
"This election could not be more important," said Joe Anderson, wastewater mechanic with the city of Nassau. "We are out knocking doors because Right-to-Work-for-Less would be on the ballot if we lose. The extra lift from our New York sisters and brothers reminded us that we are not alone and stronger together." Members from CSEA/Local 1000 joined the fight on Saturday, October 29th to elect leaders who will fight for workers' rights. New Hampshire Governor Maggie Hassan is challenging conservative Senator Kelly Ayotte, and a Hassan victory is key for pro-worker candidates to take back the U.S. Senate.
Keeping that Sterling Dedication to Workers in the Silver State
Following decades of leadership in the U.S. Senate, Harry Reid is retiring, opening up a seat that conservative, anti-worker forces want. "We have worked day and night to fight for our Senate candidate, Catherine Cortez Masto, who will fight for us and stand with Hillary Clinton to nominate a Supreme Court justice who will defend workers' rights," said Brian Gordon Milden, Nevada Department of Corrections.
In June of this year, AFSCME held its 42nd International Convention in Las Vegas, where more than 2,000 activists joined Cortez Masto to rally against Donald Trump's deplorable anti-worker practices in his hotel. Hundreds of members out of California from UC Local 3299 and United Domestic Workers, AFSCME Local 3930, have climbed on buses week after week to keep the fight alive in Nevada.
Major walks are scheduled in all three battleground states until the election. To learn how to help, visit www.wevotewewin.org.