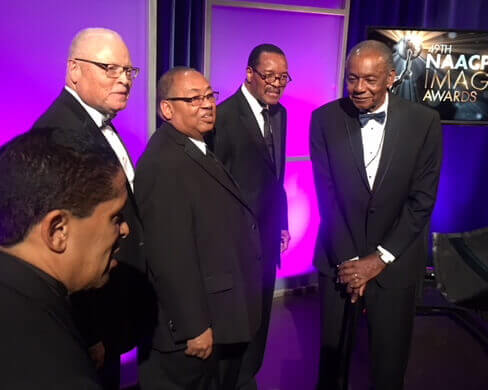 The NAACP bestowed two important honors on AFSCME heroes at the 49th annual NAACP Image Awards.
The 14 surviving members of the 1968 Memphis Sanitation Workers' Strike were awarded the NAACP's vaunted "Vanguard Award."
According to the NAACP, the Vanguard Award is an honor "presented in recognition of the groundbreaking work that has increased understanding and awareness of racial and social issues."
The sanitation workers were members of AFSCME Local 1733. In 1968, after the deaths of their brothers Echol Cole and Robert Walker, they walked off the job, demanding better pay, safer working conditions and respect.
Also honored during the awards show on the Rev. Martin Luther King Jr. holiday was AFSCME's former Secretary-Treasurer Bill Lucy, who received the NAACP's Chairman's Award, which is "bestowed in recognition of individuals who demonstrate exemplary public service and use their distinct platforms to create agents of change." Past recipients of the Chairman's Award include former Vice President Al Gore and then-Sen. Barack Obama.
Lucy, who served as AFSCME Secretary-Treasurer for nearly 40 years, was a leader in organizing the Memphis sanitation workers in 1968, among his many other accomplishments in advancing the causes of social, racial and labor justice.
The actor Danny Glover, who was awarded the NAACP's President's Award, acknowledged Lucy's stature as a labor and civil rights leader, saying during the ceremony on Monday night, "I am honored to accept this award, but it means a lot to me to share this night and honor with my friend, William Lucy."
Glover echoed Dr. Martin Luther King, Jr.'s sentiment that, "Civil rights and labor rights have always been one and the same."  
AFSCME Pres. Lee Saunders said in a statement, "We are humbled and honored that the NAACP has chosen to honor the Memphis workers as well as Bill Lucy." Saunders added, "These brave men were striking to demand dignity and respect; to demand racial justice and economic justice."
Through its I AM 2018 campaign, AFSCME and the Church of God in Christ (COGIC) have embarked on an initiative that will draw inspiration from the heroes of Memphis and connect their struggle to today's challenges for social and racial justice.