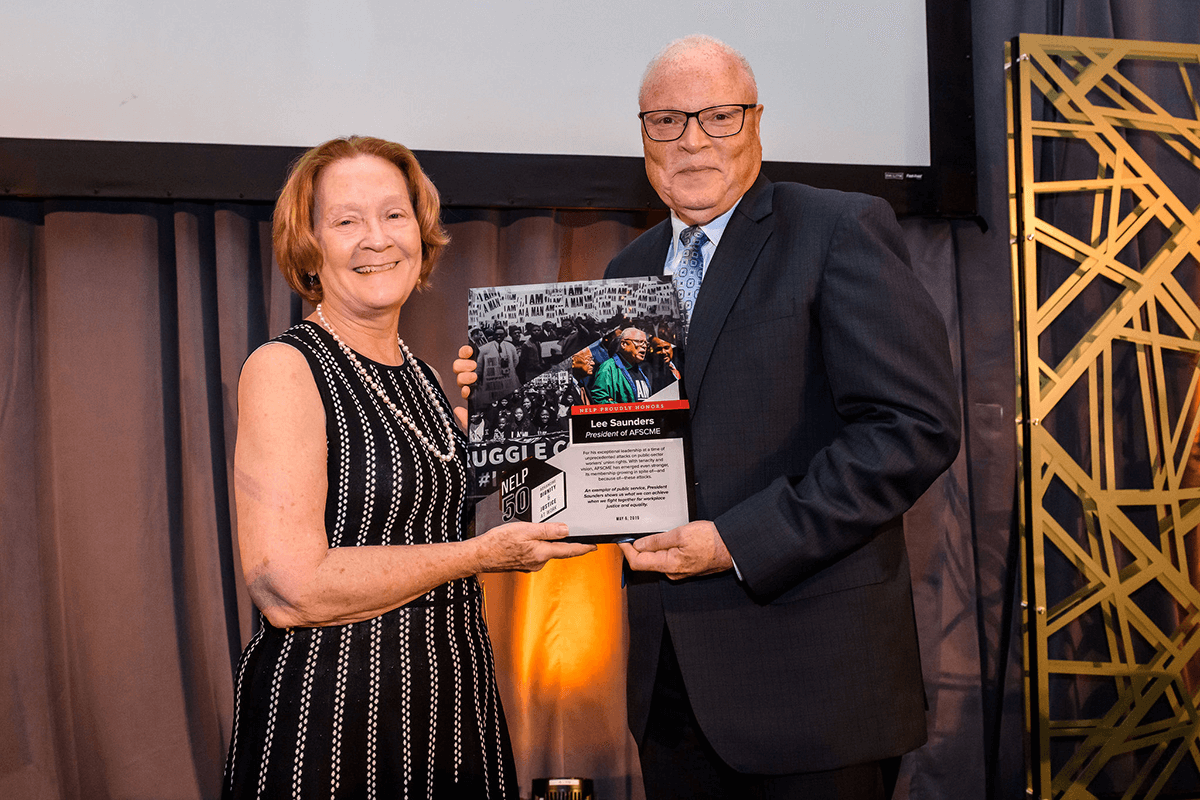 What began as a student-run legal clinic at Columbia University Law School in 1969 has evolved into a powerful force fighting for the rights of workers. The National Employment Law Project (NELP) celebrated its 50th anniversary in fighting for the issues that improve the lives of workers.
As part of that celebration, NELP recognized AFSCME President Lee Saunders for his "leadership at a time of unprecedented attacks on public sector workers' rights."
In his remarks during Monday night's gala, "NELP50: Advancing Dignity & Justice at Work," Saunders acknowledged the huge challenges posed by the Janus Supreme Court decision, and how AFSCME marshaled its power to withstand that ruling, emerging even stronger.
"The last year has probably been the most challenging we've confronted in AFSCME's long history," he said. "And last summer, when the Supreme Court made the entire public sector right-to-work in their Janus decision … frankly, a lot of people started writing our obituary. The conventional wisdom was that we were finished."
That conventional wisdom, Saunders said, was baseless, failing to account for the resilience of AFSCME members and their loyalty to their union.
"I share this award with the fearless men and women who I'm representing here tonight, and who have put our union in a position of strength: AFSCME members all across this country," Saunders said. "They never shrink or surrender. They are at their best when the stakes are highest. They have stared down adversity and emerged with renewed vigor and vitality."
NELP, which fights for a fairer minimum wage, pay equity for women, unemployment insurance, occupational health and safety, and many other issues that affect workers, has been a staunch AFSCME ally in the struggle to advance not only economic justice, but racial justice.
Other honorees recognized at the gala were Anna Shireen Wadia, a senior program officer in the Ford Foundation's Future of Work(ers) program, the Warehouse Worker Resource Center, and Make the Road New Jersey.