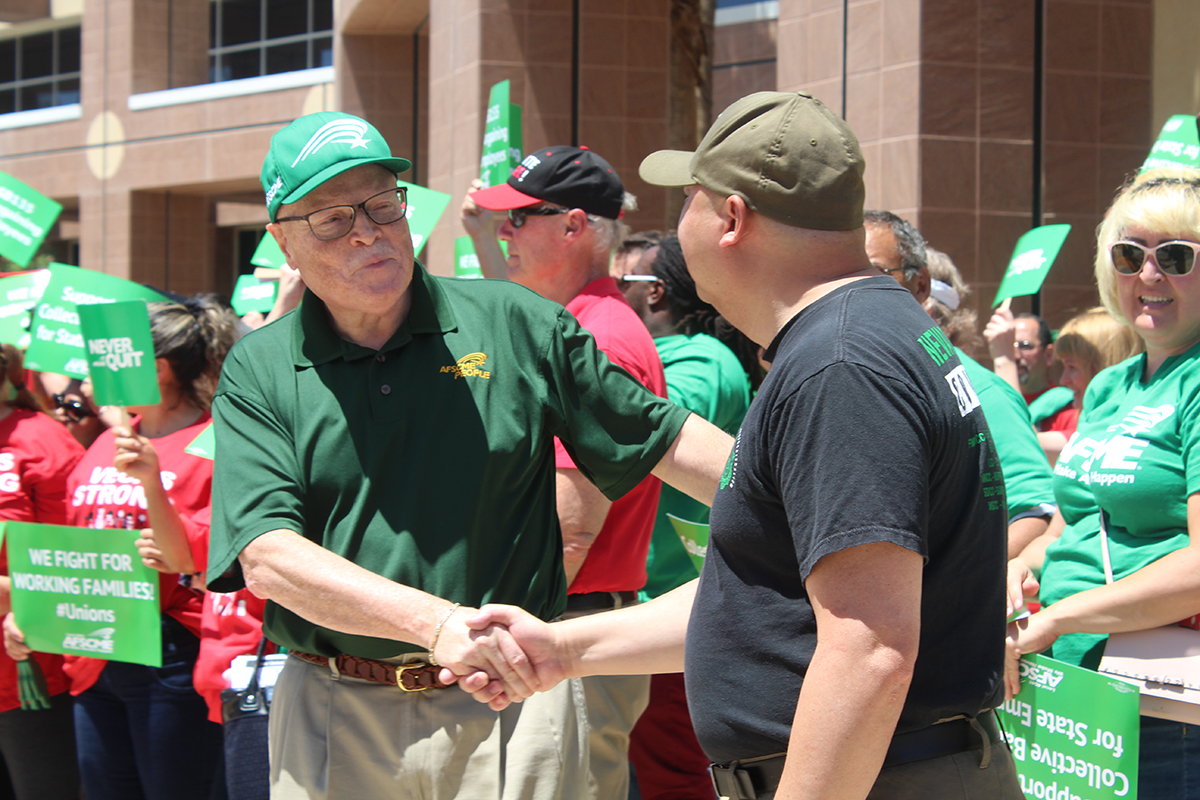 LAS VEGAS - On Tuesday, Nevada state workers were joined by members of the Culinary Union Local 226 for a rally in support of Senate Bill 135, which will extend collective bargaining rights to state employees. Along with AFSCME President Lee Saunders and UNITE HERE President D. Taylor, hundreds of state workers and hospitality workers came together in a strong show of solidarity among Nevada's labor community.
The rally gave state workers an opportunity to continue to make their case that collective bargaining rights will give them a greater voice on the job.
"Short staffing and not having a voice on the job put me in the hospital for three days," said Kelvin Chung, a Correctional Officer at Ely State Prison who was injured in the line of duty last month. "We put our safety on the line to protect our communities. It's not unfair to ask that we have the staff, equipment and policies we need to go home safe."
AFSCME Pres. Lee Saunders emphasized how, despite the variety of jobs Nevada state employees perform, they share a common purpose.
"Every day, Nevada state employees wake up with one goal, with one thing on their minds: serving and strengthening their communities to the best of their ability. They do difficult jobs, essential jobs, jobs we all depend on. And they do them with pride and professionalism, with courage and conviction – whether they're nurses, whether they're in corrections, whether they maintain roads and parks, or work with people with disabilities."
As the only public sector workers in Nevada without the ability to negotiate over working conditions, wages or benefits, state employees are building off of decades of organizing to push SB135 over the line.
"Collective bargaining rights for state employees is a long time coming," said Local 4041 President Harry Schiffman. "Local 4041 is stronger than ever, because workers are seeing how coming together will allow us to make much-needed changes in the workplace."
Agueda Sanchez, a group supervisor at Summit View Youth Center, knows that coming together with her coworkers leads to substantive changes in the workplace.
"At my facility, we have come together to bring our issues to management in a unified voice, and that's started to create some positive changes in the workplace. With our expertise, and the stronger voice that comes with collective bargaining, we can help ensure that the kids we serve get the best care we can provide, and staff can do our job safely."