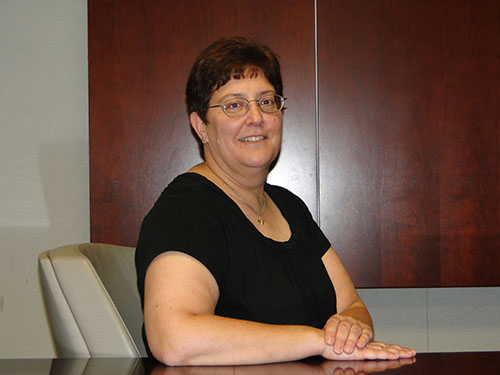 Theresa "Terry" Kraus is the agency historian at the Federal Aviation Administration (FAA). Her job is to be an expert on all historical matters involving the agency, dig deep for the right context for today's issues and policies, and help the agency learn from its past.
Her colleague, Terry Dempsey, nominated Kraus for AFSCME's Never Quit Service Award. Dempsey described her as a "one-stop, one-person shop for information on the agency," and as someone who regularly goes above and beyond the call of duty.
Kraus is a member of AFSCME Local 1653 (District Council 20) in Washington, D.C. She also has been judging the National History Day competition for junior and senior high school students for more than 35 years.
AFSCME Now: How did you get started in your career?
Kraus: I knew from a young age that I wanted to be a historian. In fact, I told my parents at the age of 10 that was what I was going to do. I always loved doing historical research, learning new things, and analyzing why things happened. I still get a thrill from working with old documents and discovering new [to me] historical materials and figuring out how everything fits together.
Can you describe your job, i.e., what you do daily?
I have one of the best jobs in the agency! Every day is a little bit different and provides me an opportunity to learn even more about the FAA. In general, I serve as the FAA's subject matter expert on all historical matters. Like historians at other agencies, my primary role is to analyze and interpret the FAA's past as a means of placing contemporary issues and policies within a larger context — in other words, learning from our past.
As a public service worker, describe your pride in serving your community.
I always wanted to work in the public sector. From a young age, it seemed like the ideal career. In addition to being able to do what I love, research and writing, it also allowed me to have a lot of contact with the public. I firmly believe that the more the public understands the work of our federal agencies, the better they understand the government and its responsibilities. An informed public makes our democracy stronger.
What motivates you to go the extra mile?
I've always been driven – perhaps the middle child syndrome. For me, it is a personal quest to be the best I can, whether personally or professionally. Also, my mom always taught me that, "If you don't ask, you'll never know." This is my personal philosophy. Do not be afraid to ask the difficult questions, and if you need something, you have to advocate for yourself.
Are there any ways in which your union has helped you better serve your community?
I am so happy to be a union member. I joined our local not too long after it was organized, and over the years, I have served as a trustee and newsletter editor. When working in any bureaucracy, it's reassuring to know the union has my back. The FAA is a great agency to work for, but, as with any large organization, there can be some challenges. The knowledge that the union is working for me allows me to concentrate on my history duties. Who could ask for more?