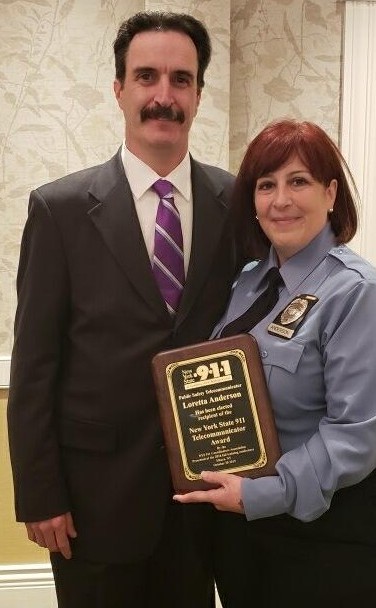 NEW ROCHELLE, New York – AFSCME Council 66 member Loretta Anderson does a tough job in stressful circumstances. She's a community service officer (CSO) for the City of New Rochelle where she answers 911 calls from people in distress and dispatches police.
Recently, her years of dedicated service were recognized as she was awarded the 2019 Telecommunicator of the Year Award from the New York State 911 Coordinators Association.
As a 28-year employee of the city, Anderson does a crucial job that often goes unseen and underappreciated.
"We are the first people to interact with someone in need. Telecommunicators are the real true first responders, and we're responsible for the lives of our residents and our officers," she said.
Anderson's focus on professional development and team building was one of the reasons she received the award.
"For me, knowledge is power," she said. "I make sure that I learn every aspect of the job, even if it's not directly related to my job title. I keep myself updated with the policies in the department, and when I'm training someone, it's very important for me to make sure they know what I know."
And she takes her role in the union seriously, too. For 15 years, Anderson has been the vice president of AFSCME Local 663, which represents over 100 dedicated union employees in New Rochelle. It's a role that she is proud to carry out on behalf of her colleagues.
"Your union is your future. It protects your job, to make sure you have those benefits and salaries that are pretty competitive. Having a united front keeps you strong and together. It's all about being together," she said.
Anderson explained that her local has a diverse group of members who work in both public safety and public works. But over the years, the two very different groups of workers had to develop a better understanding of each other's jobs, to where they now have a lot of respect for one another.
She told the story of how a few months ago, the city was considering increasing the recycling pickup to encourage more city residents to recycle, without increasing the Department of Public Works' workforce. Union members fought the proposal.
"A bunch of our members rallied together and we spoke publicly in front of city council," Anderson said. "We got a lot of positive feedback. So far, their plan has not moved forward."
For Anderson, the union is about supporting each other at work. "You are brothers and sisters, you're with your work family, and it's important to share in that co-worker bond. It's really important to stick together and fight the fight."
And whether she's responding to an emergency or helping her colleagues in the union, Anderson always answers the call.