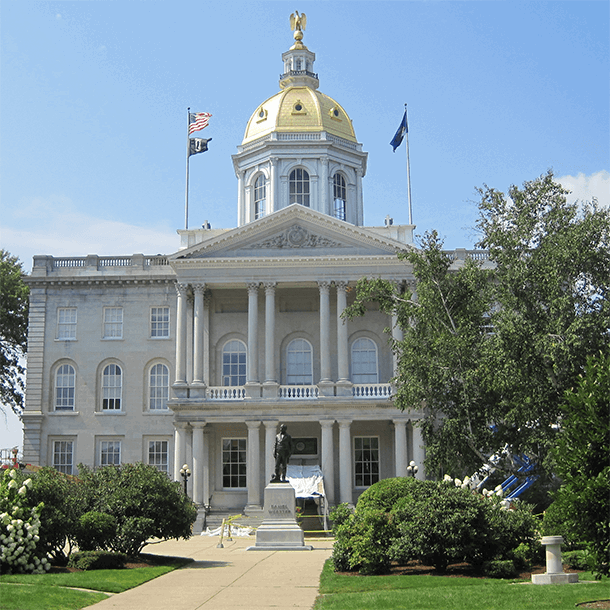 WESTMORELAND, N.H. – Brenda Howard has served patients at Maplewood Nursing Home for 32 years. As a medication nursing assistant and licensed nursing assistant (MNA/LNA), she assists registered nurses in daily nursing care for people of all ages. The main reason she's done this difficult work for so long, she said, is to care for people. It isn't just a job, it's a calling.
"It's not only the residents," Howard, an executive board member of AFSCME Local 2679 (Council 93), said. "I've met a lot of great families that still keep in touch with me after they've lost their loved one. Yes, I care for grandma, but the outside family members are just as important."
Howard noted that her facility serves an essential role in the community, which the people in the area understand and respect. Many family members volunteer at the home, and the staff provides counseling, support groups and other services that help during the difficult time of losing a loved one. The building is also in a beautiful location, she added, which allows residents and families – who face difficult circumstances – to draw comfort.
"It's a county home so we take anybody," Howard said. "There are other homes that can pick and choose. We don't discriminate. We help in bad situations, like when people have no place else to go."
In recognition of Howard's experience in direct nursing care, New Hampshire Gov. Maggie Hassan appointed Howard to a new commission that will address the state's health care workforce shortage. The path to Howard's selection started with a phone call between Harriett Spencer, Council 93's New Hampshire coordinator, and Amy Kennedy, the governor's policy director, to discuss representation of health care workers in the state.
Howard will be the sole union representative on this special commission, which plans to tackle the statewide shortage of health care workers. Howard's six years of service on the New Hampshire Board of Nursing provide her with a clear understanding of how the shortage affects health care facilities throughout the state. It's a crisis that has even caused a delay in the opening of a mental health facility.
And Howard's experience gives her more than a few ideas of how to change the health care workforce for the better. While a lot of focus is on recruiting new workers into health care, Howard says that retention of health care workers is a major issue as well.
"Keeping the ones you have is just as important as hiring new workers," Howard said. "We lose a lot of them. We need to nurture them, make them feel more wanted and treat them better to make sure they want to stay."
Their work is hard and largely unsung, but it matters because they help make their communities better.
She helped develop the idea of the medication nursing assistant (MNA), who assists nurses by providing non-injection medications, as a member of the Board of Nursing. This frees nurses to focus on more intensive treatments and perform more medical assessments.
"Over the years, nurses have come to respect MNAs and see that they are a benefit," she said.
Howard's experience and knowledge clearly will help improve New Hampshire's health care workforce, but the job goes beyond that for her.
"The quality of time that you can give a person at the end of life is the most special," Howard said. "I've taken care of all age groups. Sometimes it's more difficult, but sometimes it's good that you had the opportunity."