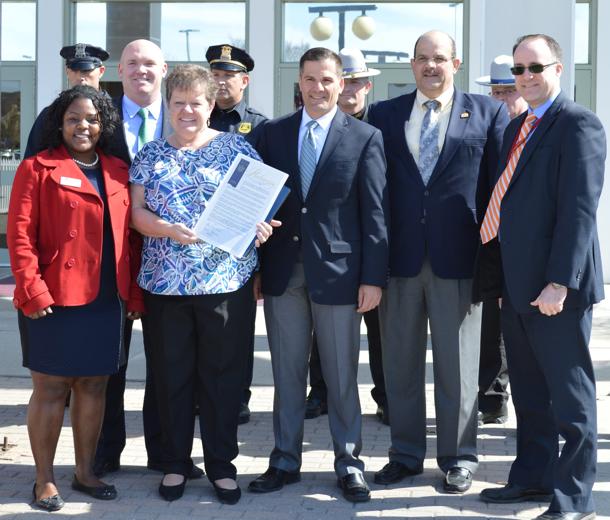 Barbara DeLong, a school bus driver who cares deeply about the safety of the children in her care, was honored recently as the School Bus Driver of the Year by Dutchess County, New York.
DeLong, who has driven for the Arlington Central School District for 29 years, is a member of Civil Service Employees Association (CSEA)/AFSCME Local 1000. She received the award during a ceremony on April 15 at Arlington High School.
Awarded annually for the past 14 years, the Dutchess County School Bus Driver of the Year Award is meant to reward drivers with exemplary safety records. It is also intended to put a spotlight on a serious national problem – drivers who fail to stop when school buses stop to pick up children, even though the bus is displaying its extended stop sign.
A near-miss involving an SUV that failed to stop for a school bus last month in Graham, Washington, shown on media outlets nationwide, demonstrates the danger that school children face when they get on or off a bus. That's why DeLong's safety award is so important. It reminds drivers that they need to be especially careful when they see a stopped school bus with its red stop sign extended and lights flashing.
"Our children's safety is our utmost priority and school bus drivers take their responsibility for children safety very seriously," said Dutchess County Executive Marcus J. Molinaro at last month's ceremony honoring DeLong. "Today we say thank you to all the bus drivers who transport our children with such care and remind drivers that they have also have an important role in bus safety. Always stop when the red lights are flashing on a school bus. The extra moment could save a life."
Joining in the praise is CSEA Pres. Danny Donohue, also an International vice president. "School bus drivers do some of the most important work imaginable by transporting our children safely to and from school," he said. "We are proud of their dedication and hard work and Barbara DeLong represents the very best of that service."
The School Bus Driver of the Year Award is presented at the start of a Dutchess County Law Enforcement program called Operation SAFE STOP, whose goal is to remind drivers to exercise caution when approaching a school bus, and obey the flashing red lights when the bus is stopped to pick up students. During Operation SAFE STOP, law enforcement officers shadow school buses throughout the county to identify violators.
Congratulations to Barbara DeLong – and to all the other bus drivers who work hard every day to ensure that children get to school and home safely. They risk their lives – and sometimes sacrifice their lives – to save others. Such was the case of school bus driver Laura Zborowski, an Ohio Association of Public School Employees (OAPSE) union member killed last year in a terrible accident while trying to keep a child out of harm's way.