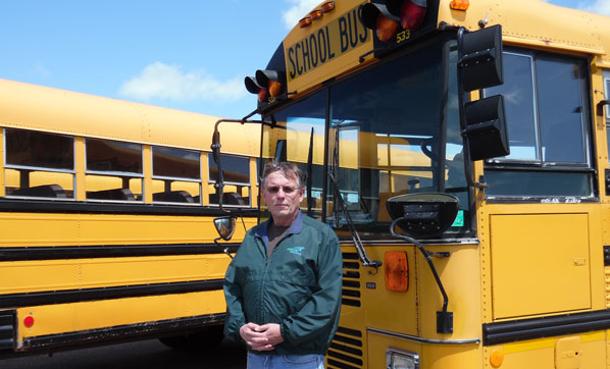 Minnesota state patrol vehicle inspector Jim Ullmer Jr. had been building strength in his union through member-to-member engagement long before the idea became the foundation for our AFSCME Strong program, which launched early last year to build a stronger union nationwide through one-on-one conversations with fellow workers.
"Our mission throughout the year is to visit every single member at their workplace to make sure they know we're there," says Ullmer, a member of the executive board of Department of Public Safety Local 3142 (AFSCME Council 5). In fact, he and Catherine Claude, the local's treasurer, travel throughout the state each year to meet face-to-face with the nearly 700 members of the unit, who work in every county in the state.
"We've done that every year for probably the last 10 to 15 years," Ullmer says. He's been working for the Minnesota Department of Public Safety for 32 years, and has always been an active member of his union.
Recently, he and Claude traveled 1,009 miles – from Worthington to Thief River Falls – to talk with workers about issues that matter to them in their workplaces. Ullmer acknowledged that it's hard on them and their families to be on the road so often. "You adjust, you adapt, but we get it done," he says. "Sometimes, I don't know how, but we do."
They also personally deliver the union's contract, discuss any grievances and make sure to talk about the importance of staying with the union, or joining if they haven't already.
"When we go into a workplace, everybody knows your name, because we've been there so many times," he says. "There's no surprise when we walk in."
They're even welcomed by the supervisors and managers, he adds. "For the most part, we have really good relationships with everybody."
Ullmer makes that trek with Claude a few days at a time, then return to their regular jobs (he inspects school buses in the Minneapolis-Saint Paul metropolitan area; she's a driver-examiner in St. Cloud).
Last fall, Council 5 launched its AFSCME Strong training program and Ullmer was among the first to learn. He discovered that AFSCME Strong was "more focused than what we did" during his previous one-on-one meetings with fellow workers.
"I probably collected close to 300 recommitment cards and got 35 to 40 fee payers to convert to membership during the latest campaign we've been on," Ullmer says.
Overall, members of Local 3142 who participated in the AFSCME Strong blitz had one-on-one conversations with about 500 workers who recommitted to our union by signing "maintenance of membership" (recommitment) cards during the AFSCME Strong training blitz.
Even though the blitz is done, Ullmer and Claude are still at it. "We still have a couple of spots we've got to go," he says. "We're going to see everybody. I do it, quite honestly, because it's important and because my local supports me – our officers, Executive Board, stewards. It's a local mindset we have. We don't have all the answers but we sure try. We'll never quit, we'll never surrender. We'll keep going, no matter what it takes. We're going to do it!"