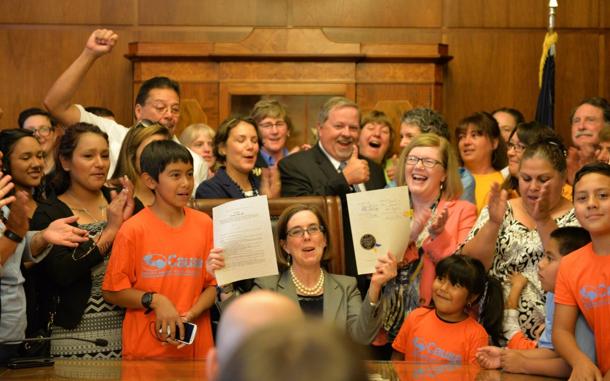 Oregon Gov. Kate Brown on July 14 signed into law a groundbreaking package of workplace and retirement legislation that could serve as a model for other states. The new laws, strongly supported by AFSCME Council 75 and a broad community coalition, provides:
Mandatory paid sick days for employees.
A state-managed retirement system open to all residents.
A prohibition against employers considering a job applicant's conviction history during the initial hiring stages.
A requirement for reporting profiling complaints to the Law Enforcement Contacts and Data Review Committee.
"I'm very proud that our union had a role in fighting to bring statewide benefits that most of our members already enjoy," said Karen Williams, AFSCME Council 75 political action chair. "It was really clear that we were in this fight for everyone in the community, and that's how it should be. I couldn't be more proud of our fight to expand these benefits and to help improve everyone's work life."
AFSCME Council 75 and other labor organizations joined with a coalition of faith and community groups to form the Fair Shot for All Coalition, lobbying collectively to pass the historic legislative package.
The work of AFSCME Council 75 and its allies perfectly illustrates the important role the labor movement plays in improving working conditions for everyone, regardless of their union status. Where unions are strong, wages are higher, more people have health insurance, and fewer people live in poverty.