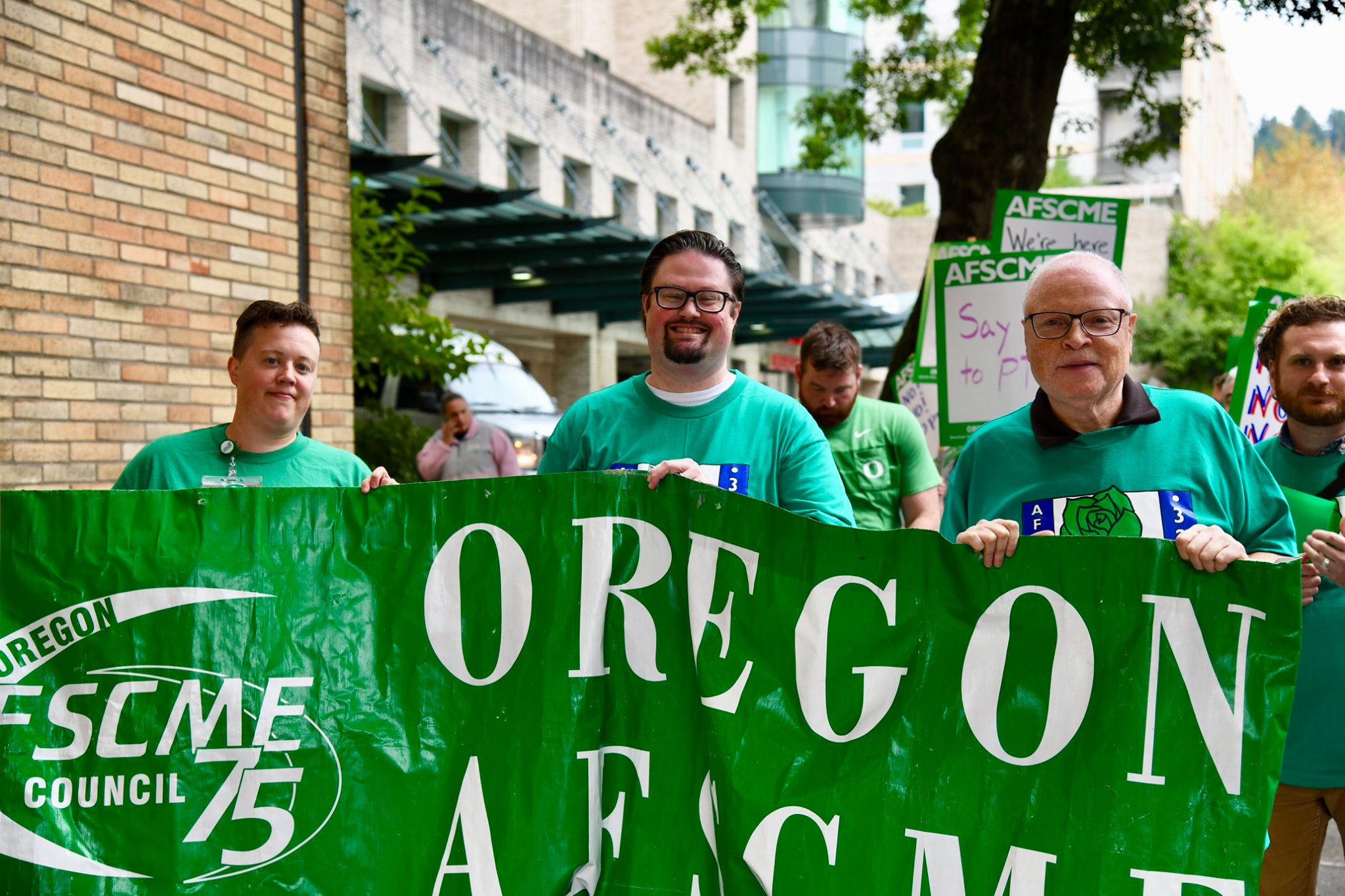 More than 1,400 people – including AFSCME President Lee Saunders – attended AFSCME's picket at Oregon Health and Science University to support OHSU workers, who are fighting for livable wages, affordable health care and a fair leave system.
The picket, held on Thursday, sent a strong message to OHSU executives: Workers deserve to be treated with dignity and respect.
OHSU employees are members of Local 328, Council 75's largest local with 7,000 represented workers. Shouting chants such as, "No take-backs. Defend our contract, our patients and our families," these workers are standing together and refusing to settle for a substandard contract.
Negotiations are at a standstill over OHSU's proposed changes to leave policy. The management proposal would reduce the amount of time available by switching to a single system of paid time off (PTO) instead of allowing members to take two types of leave – sick leave and vacation. Requiring employees to work even when sick puts not only their own health but also their patients' health in jeopardy.
Saunders encouraged everyone to stand firm until a contract that's fair for all employees is reached.
"This is a place that's supposed to be about healing – why would management create incentives for people to come to work sick and expose sick people to more sickness?" Saunders said.
"Hurting you means hurting the people you serve. When you are undermined, patient care is undermined and public health is undermined," Saunders added. "This university is … investing in new buildings and facilities, experiencing rapid growth. The people that make this university run deserve dignity and respect."
Stacy Chamberlain, executive director of AFSCME Council 75, echoed the point that the contract should be about respect.
"This is a fight about respect – respect for these workers, the work they do and their union," she said. "The OHSU proposal on PTO not only puts patients and workers at unnecessary risk, it is another example of that lack of respect given these workers who have clearly and unequivocally told management they do not want this."
"This turnout today hopefully drives home that message and we (want to) see a fair proposal at mediation on Tuesday," she added. "Either way it's clear these members are not going away."