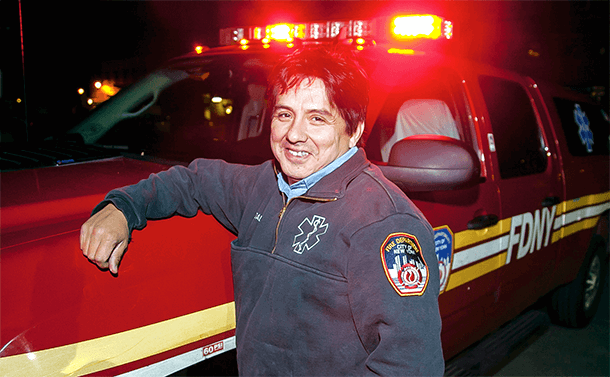 NEW YORK – Lt. Michael Daddona, a paramedic for the city fire department, had to think quickly and make a critical decision. He could wait a couple of minutes for firefighters to arrive at the home of 91-year-old Winifred Miccio to rescue her from a burning bedroom, or he could take matters into his own hands.
Daddona decided he couldn't wait another second and rushed into the two-story house on Cross Bay Boulevard with only one thought in mind: saving Miccio from the smoke and flames.
"I did have some trouble breathing because of the smoke," said Daddona. But the big challenge was getting Miccio, who uses a walker, safely out of the house.
Daddona decided there was no time to waste looking for her walker and managed to carefully guide her out of the house and onto the street. The fire was limited to the bedroom and no further damage was done to the Beach Channel home.
"He went beyond and above the call of duty and we're proud of him," said Vincent Variale, president of Uniformed EMS Officers Local 3621.
Daddona, a member of the local union, is assigned to Station 50 at Queens General Hospital. But on Tuesday morning, Oct. 20, he was filling in at Station 47 in Rockaway when he got the call.
A veteran of the department since 1996, Daddona is also an active member of the Franklin Square Volunteer Fire Department in Long Island.
"It's always a great feeling when you can help someone," Daddona said.