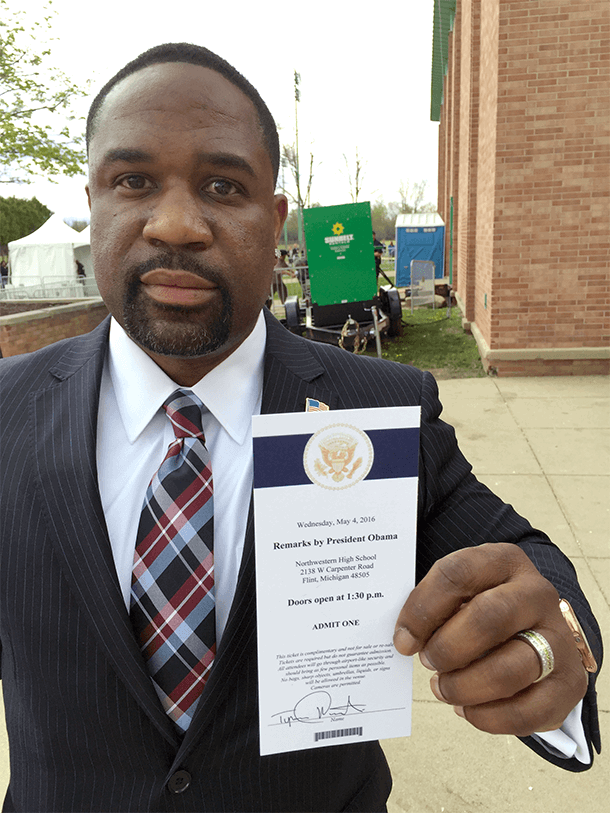 FLINT, Mich. – For Tyrone Wooten, a member of AFSCME Local 1603 (Council 25), May 4 was a big day for him and his hometown. He personally met with President Obama to discuss the water crisis.
President Obama then addressed the city's residents, reassuring them that "I've got your back" and "you've got power."
Wooten took part, with six other Flint residents, in a roundtable with the President. They talked about their personal struggles living day to day without usable water, what it will take for residents to regain trust in government and what Flint needs to move forward.
"It was a very face-to-face meeting," said Wooten. "It was just us and him (and the Secret Service) telling it like it is. I told the President, 'My union serves the people of Flint, and we want to get busy fixing this problem, but we need the resources to get to work and get this fixed.'"
The whirlwind day wasn't over for Wooten after his meeting with the President. He was also interviewed by statewide news media and was quoted in the Detroit Free Press. The AFSCME member, who works at Hurley Medical Center in Flint, produced a video, posted on YouTube, called Bottled Water, about his family's challenges during the crisis.
"All of our pipes in Flint need to be replaced," said Wooten. "Our city has been leading the way the best they can, but the state has yet to replace a single pipe in Flint. We need those resources and we need the federal help that President Obama has pledged to make sure our families are safe."
For now, AFSCME members and residents of Flint keep waiting for real dollars and decisive actions to flow from the Snyder administration to fix this health crisis.