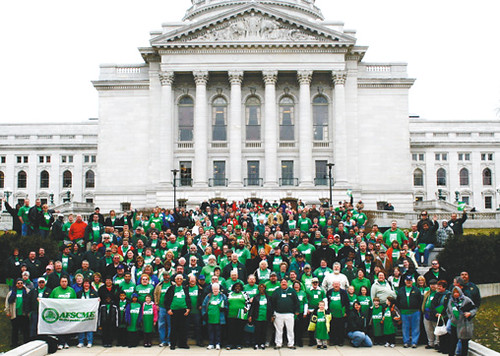 Ten years after the historic mobilization over Act 10, which drew tens of thousands of union workers from around the country to Wisconsin, public service workers throughout the state are celebrating their voices being heard once again.
In his biennial budget proposal, Wisconsin Gov. Tony Evers called for the return of collective bargaining rights for all essential public workers.
The urgency of having a voice on the job is underscored by workers' experiences during the coronavirus pandemic. Essential front-line workers lack a say in workplace safety, health care and other issues even as they risk their lives for their communities.
The inclusion of collective bargaining in Evers' 2021-2023 budget plan is the culmination of years of activism by members of AFSCME Council 32. Recently, members organized a call-in campaign, with members and supporters calling Evers' office and sharing their experiences on the front lines of the COVID-19 pandemic.
In a statement, Council 32 Executive Director Patrick Wycoff said, "Every AFSCME member, neighbor, and ally who called the governor ensured that the Evers's budget prioritizes workers."
According to council President Paul Spink, the pandemic has only intensified the need for workers to have a voice on the job.
"It's common sense that the voices of the people who do the work in this state are heard," Spink said. "Collective bargaining ensures that the front-line experts who directly serve their neighbors can stand up for their safety and the services they provide. A voice in the workplace has never been more critical than during a pandemic."
Ten years ago, when some 100,000 workers and supporters gathered in Madison and peacefully occupied the Capitol building, they were standing up for rights that could not be more critical in the pandemic. Public workers use their voices to keep workplaces safe for themselves and the people who depend on them.
What's more, workers are often last line of defense against cuts to critical services and safety nets that Wisconsinites need now more than ever. Evers' proposal seeks to restore those rights and give public sector workers the same collective bargaining rights as private sector workers, police and firefighters.
This pro-worker budget proposal heralds a new era for unions in Wisconsin – and seeks to dismantle the anti-worker legacy of former Gov. Scott Walker. In the wake of Act 10, Council 32 refocused on fighting for members in the trenches. Wycoff told Wisconsin Public Radio that the way unions advocate workers has really changed in the past decade.
"Now it's fights in the workplace," Wycoff told WPR. "We're really hearkening back to my dad and grandpa's union of 40, 50 years ago."
Evers' budget proposal signals that the era of workers standing together in the political arena is back, and AFSCME members are ready for their voices to be heard again.
"Governor Evers listened to the clear demand for essential workers to be treated equally with police and fire and to have the same workplace freedoms as all other Wisconsinites," Wycoff said.
In an op-ed in The Cap Times, Spink agreed, writing, "We should be proud of our heritage supporting high-quality public services, safe workplaces and strong communities. Collectively bargaining served us well for decades; Gov. Tony Evers publicly admitted as much. … The time has never been better to honor our sacrifices by honoring our voices."