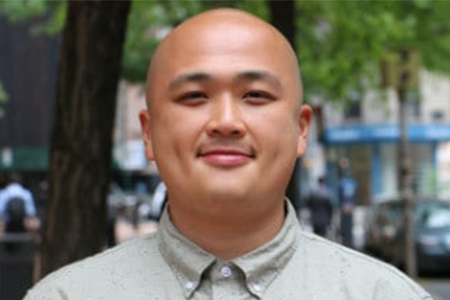 As we celebrate and honor the contributions of Asian Americans and Pacific Islanders this month, AFSCME also grieves and stands in solidarity with them as anti-Asian violence has risen. The recent killings in Atlanta,  Indianapolis and other attacks against Asian Americans are a deadly counterpoint to Asian Pacific Heritage Month, during which we usually celebrate Asian Americans' enduring influence and the rich heritages.
On Tuesday, Han Lu, a policy analyst at the National Employment Law Project (NELP), joined AFSCME via Zoom for a discussion titled, "Solidarity in Response to Anti-Asian Violence."  
AFSCME President Lee Saunders opened the conversation by recognizing the contributions of Asian American workers to building our nation.
"It was 152 years ago this month that the construction of the transcontinental railroad was completed. This was and remains one of the most remarkable infrastructure accomplishments in all of American history," Saunders said. "What made it possible was the grueling, backbreaking labor of thousands upon thousands of Asian immigrants, who worked without any rights and protections, many of them sacrificing their lives in the process."
Saunders also recalled the 1981 murders of two Filipino-American union activists in Seattle, Silme Domingo and Gene Viernes, who were fighting discrimination, corruption and brutal working conditions in fish canneries, and whose assassinations were later found to be connected to the Ferdinand Marcos regime.
"In their honor, we continue the fight every single day for Asian Pacific American workers, workers of color and all workers to receive the dignity and respect that they deserve," Saunders said.
Lu, whose day-to-day work at NELP focuses on how the legal and criminal justice systems degrade worker power, offered a broad context to understand the challenges facing Asian Americans today.
He framed those challenges – dispelling the myth of the so-called model minority, recent surges in anti-Asian hate crimes, attempts to subvert the reality of Asian racism and more – as part of a much larger struggle facing people of color. Racism of all kinds – whether against Blacks, Latinx, Asian Americans and others – is connected, based on the victims' status as nonwhite.
Lu said, "For Asian people, there's a lot of energy by others to deny our grief is real and [that] we don't experience structural racism and exclusions. We've had generations [who've said] that whatever harm we experience is out of the ordinary."
In reality, Lu said, Asian Americans have long experienced threats of physical violence alongside "the constant messaging that our experience isn't real." In the wake of recent anti-Asian attacks and the murder of George Floyd, Lu said society may be reaching a turning point.
"People are finding it harder to pretend the grievances aren't there. Both we and others are beginning to know how real it is," he said.
While it's good to see anti-hate-crime legislation being proposed, combating structural racism and racist violence can't be left just to the criminal justice system, Lu said. Examining racism in the labor market and understanding how racism pervades our institutions are also essential steps, he said. So are examining inequities in health care, housing and more.
Promoting racial justice is an effort AFSCME remains committed to, Saunders said.
"I am proud of AFSCME's work in this space, and at the same time I'm not satisfied with where we are," he said. "That work must be and is ongoing … to ensure that racial equity is a part of everything we do."