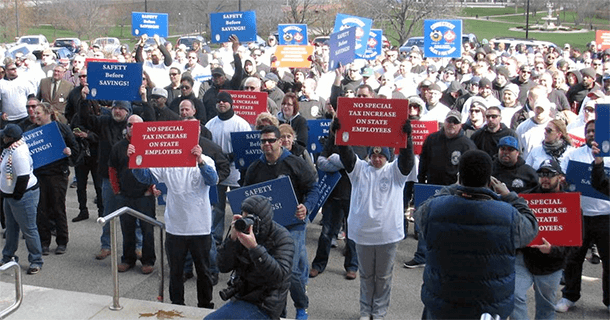 HARTFORD, Conn. – Chants of "tax the rich, not the workers" and "respect those who protect" reverberated outside the state Capitol here March 29 as more than 700 state public safety workers marched to protest Gov. Dannel P. Malloy's "austerity budget," which includes substantial state employee layoffs and deep cuts to vital services.
Members of AFSCME Council 4's Corrections and Judicial bargaining units were a big part of the rally, sponsored by the newly formed Connecticut Public Safety Employee Coalition, an alliance of unions representing nearly 10,000 state workers on the front lines of public safety and criminal justice.
"We are the individuals who protect Connecticut citizens," said coalition spokesman Charles DellaRocco, a state Supreme Court police officer and president of AFSCME Local 749, representing 1,600 state workers. "We're here to say that mass layoffs and cuts to our services will make Connecticut a more dangerous and less law-abiding place."
The Connecticut legislature recently approved a stop-gap budget to close a nearly $200 million hole for the current fiscal year, but a deficit of more than $900 million looms for the next fiscal year. The governor and legislative leaders on both sides of the aisle have adamantly ruled out any revenue solutions, and instead have pushed for state employee unions to reopen their 2011 health and pension agreement for concessionary bargaining.
Absent economic concessions, Malloy is proceeding with plans for "very, very substantial" layoffs that could number in the thousands. The layoffs began in early April. He also ordered state agencies like the Department of Correction to cut their budgets by millions.
Last week, Council 4 joined with AFT Connecticut to release a multi-media advertising campaign featuring educators and first responders (including DellaRocco) asking citizens to urge the governor and legislative leaders to make better choices than layoffs and service cuts.
Sara Johannesen, a correctional officer and member of AFSCME Local 1565 who works at Bridgeport Correctional Center, said short staffing is already causing her fellow officers to work 16 hour shifts, four to five days a week.
"How aware can you constantly be when you're carrying that kind of work load?" Johannesen asked. "If there's a code, it doesn't just jeopardize the person working in a unit, it jeopardizes everyone who runs to a code and what happens after it."
Connecticut's new public safety coalition plans to keep the street heat going. Immediately after their rally, which attracted statewide press coverage, more than 100 union members went inside the Capitol to lobby their legislators and urge them to make better choices – such as raising taxes on millionaires and billionaires, and ending reckless outsourcing – rather than pursue layoffs and service cuts.
"You're putting your lives on the line to keep the citizens of Connecticut safe," said Rudy Demiraj, a correctional officer and president of AFSCME Local 387. "Yet [the governor and legislators] want to play politics with our lives and our futures. We're not going to let them. We're going to keep fighting."