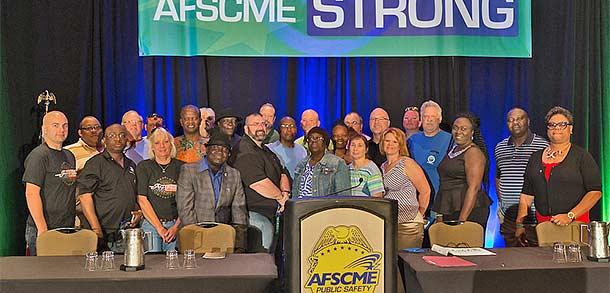 ALBUQUERQUE, N.M. – Hundreds of AFSCME first responders gathered here over the weekend for the 2015 Public Safety Congress to discuss important issues regarding public safety, service and building power through AFSCME Strong.
This was the first public safety conference that included AFSCME Emergency Medical Service employees and firefighters, and the three-day event kicked off Sept. 11 with a commemoration of the 14th anniversary of 9/11, with attendants paying tribute to the courage of first responders in the wake of the terrorist attack.
It was also the 35th anniversary of the deadly prison riot of the State Penitentiary in Santa Fe, where inmates went on a rampage, killing 33 prisoners and taking hostage and brutalizing more than a dozen corrections officers.
"Before the riot, COs repeatedly warned that conditions were dangerous," Pres. Lee Saunders pointed out in his address to the Congress. "Nearly 1,200 inmates were housed in a facility designed for 900. Low pay and long hours meant high turnover. Procedures were constantly changed, but officers didn't always get updated post orders. A riot control plan existed, but not all staff had it.
"Does any of this sound familiar?" President Saunders asked. "What happened in New Mexico in 1980 should serve as a warning."
Sec.-Treas. Laura Reyes talked about the AFSCME public safety officers who had made the ultimate sacrifice in the line of duty last year – Alaska State Troopers Gabe Rich and Sgt. Scott Johnson, and Police Detective Douglas Mayville of Albany, New York – and the ceremony honoring them this year at the National Law Enforcement Officers Memorial in Washington, DC. The names of corrections officers as well as police officers are etched on the wall.
"We will keep working to bridge the community divide – whether it's here in New Mexico, in Baltimore, New York, everywhere that you protect lives," she said. "Our towns and cities cannot survive without your steady hand, without your voice."

Public Safety Congress participants were enthusiastic about the AFSCME Strong trainings in this year's conference.
"[AFSCME Strong] Is essential," said Norma Traffie, a member of Local 3657 (Council 93) and civil clerk at the Hillsborough County Sheriff's Department in New Hampshire. "We need to understand the attacks we're facing, unify rather than divide ourselves, and remain committed as a union to protect our rights and fight for our families."

Christopher Duffy, a corrections officer from Local 1772 (Council 3) in Maryland, said that AFSCME Strong was also about protecting the middle class. "We're the biggest, baddest public-sector union in the country," he said. "If we don't fight for the middle class, there will be no middle class."