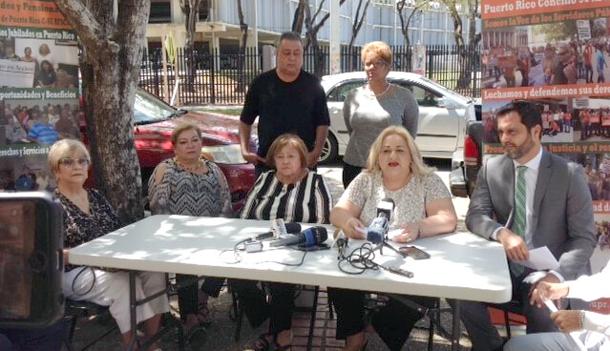 AFSCME members in Puerto Rico are going to court to protect their pensions.
On Wednesday, the Servidores Publicos Unidos (SPU) (Council 95), and its retiree chapter, along with one active SPU-represented public service employee and two SPU retirees, filed a federal lawsuit challenging the constitutionality of recent actions by the Financial Oversight and Management Board for Puerto Rico to cut pensions by 10 percent.
According to the lawsuit, the actions violate the rights of retired members by reducing retirement benefits and those of active employees by seizing their self-funded retirement savings accounts.
The U.S. District Court for Puerto Rico is expected to schedule hearings soon.
In response to Puerto Rico's fiscal crisis, Congress passed the so-called PROMESA law to strike a balance between the popular will of the people and congressional authority over U.S. possessions. The law—which requires pensions to be adequately funded—gave the Oversight Board the authority to approve a fiscal plan developed by Puerto Rico's governor or to develop a plan of its own.
SPU members, in their lawsuit, argue that the Oversight Board violated the authority granted by PROMESA in two ways: by cutting pensions and by claiming to have approved the governor's plan when in fact the Oversight Board modified that plan to further cut workers' wages and benefits and enact blatantly unconstitutional pension cuts.
"This is an example of extreme overreach by the Oversight Board," said SPU President Annette Gonzalez. "We must take every step to protect retirees and all public employees in Puerto Rico. There is no doubt that we are in a fiscal crisis, but denying retirees and public employees their constitutional rights is not the solution."
Retirement benefits for Commonwealth employees and retirees are some of the lowest in the country. Yet, even after the governor proposed a plan that called for a 3 percent benefits cut, the Oversight Board unlawfully insisted on amending the plan to impose a draconian 10 percent cut in pension costs.
"These significant cuts to my retirement security will make it extremely hard for me to support my family and pay for even basic necessities," said Sandra Pacheco, an active member who is the president of SPU Local 3889 and is one of the three plaintiffs. "My pension is not among the lowest. Countless others will suffer even more. No one who worked their entire life in service to their communities should live in poverty."
Blanca Paniagua, president of the SPU retirees chapter, said some members ration their medicines and many others go hungry because their pensions are so paltry as it is.
"The Oversight Board's solution to cut our pensions by 10 percent treats us like we are some sort of an equation and not human beings with basic needs," she said.