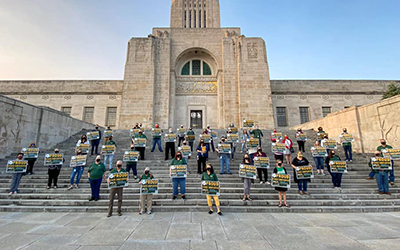 The Nebraska Association of Public Employees (AFSCME Local 61) hasn't just survived the pandemic. NAPE has thrived.
A member-led organizing plan started in 2018 was backed by a commitment to robust contract enforcement and strong member participation in the negotiating process. The result? NAPE members have attracted waves their co-workers who have joined the union.
From June 2018 to June 2021, NAPE membership has grown 62%, an unprecedented rate for the Nebraska union. The growth rate is not just phenomenal for NAPE, it's impressive for any established union anywhere.
"Growing our union has been our top priority. We developed an organizing plan, stayed consistent with it and we are seeing results," said NAPE Chairperson Deb Strudl. "Communication with new employees, conversations with veteran employees and a presence at each worksite have been crucial to our success."
But success isn't just measured in increased density across state jobs. (One in five state workers is now a NAPE member). The newly engaged and growing membership has translated into strength at the negotiating table, delivering tremendous new contracts that would have been unthinkable even a few years prior. Both new and experienced members were key to the negotiations that rectified a 15-year absence of step pay and won raises for thousands of state employees.
The strength built on record growth isn't just being felt at locals covered by the statewide contract. NAPE-represented employees across the Nebraska State College System have seen value in joining their union, too, registering 400% growth at Chadron State College. That newfound solidarity has translated directly into gains at the negotiating table. The contract that went into effect July 1 included double-digit wage growth for nearly 60% of staff at the Chadron, Peru and Wayne campuses of the Nebraska State College System.
Across Nebraska, the power of growing solidarity is raising wages, righting wrongs, and bringing respect for workers back to the workplace. With more plans for member-led organizing in the future, NAPE members are ready to raise their voices on job.