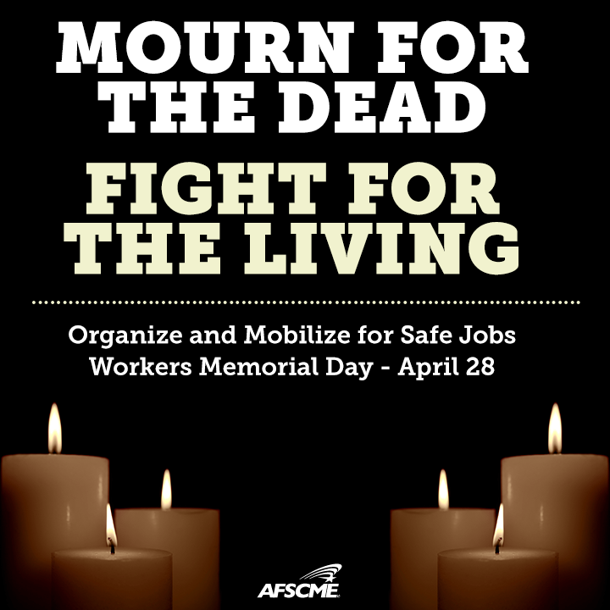 Every year on April 28, the Connecticut AFL-CIO and AFSCME Council 4 honor those who passed away while working. It is an opportunity to "Mourn for the Dead and Fight for the Living," Mother Jones's immortal words that have served as the theme for the annual AFL-CIO event.
Four members of Council 4 will be added to the memorial this year:
Anthony Amato (Local 1303-385, Westport. Foreman at Sewage Treatment Plant. Died in 2015)
Eddie Lee Love (Local 818, Bridgeport Housing Authority. Maintenance Foreman. Died in 2014)
Iris Maxwell (Local 1716, Hartford Library. Children's Librarian. Died in 2014)
Jorge Soto (Local 1579 Torrington Board of Education. Custodian. Died in 2015).
"We honor those who left this world doing what they loved, helping others," said Sal Luciano, AFSCME Council 4 executive director and also International vice president. "They served their communities up until their last moments, keeping communities and children safe, literate and clean. Each serves as an example to us and the community that public service isn't just a job, but a way of life."
Council 4 will mark the day with a ceremony of remembrance on Tuesday, April 28, 2015, at 10 a.m. (rain or shine) in front of our Workers Memorial Monument at 444 East Main St., New Britain, Connecticut, and honor the memory of all workers who died on the job since Workers Memorial Day 2014.
Last week for National Library Week, Local 1716 member Iris Maxwell was honored by her colleagues. "Iris was a big part of this place. She was so dedicated to the library and to the kids," Angel Aviles, a library assistant and union steward, said. "We miss her very much."