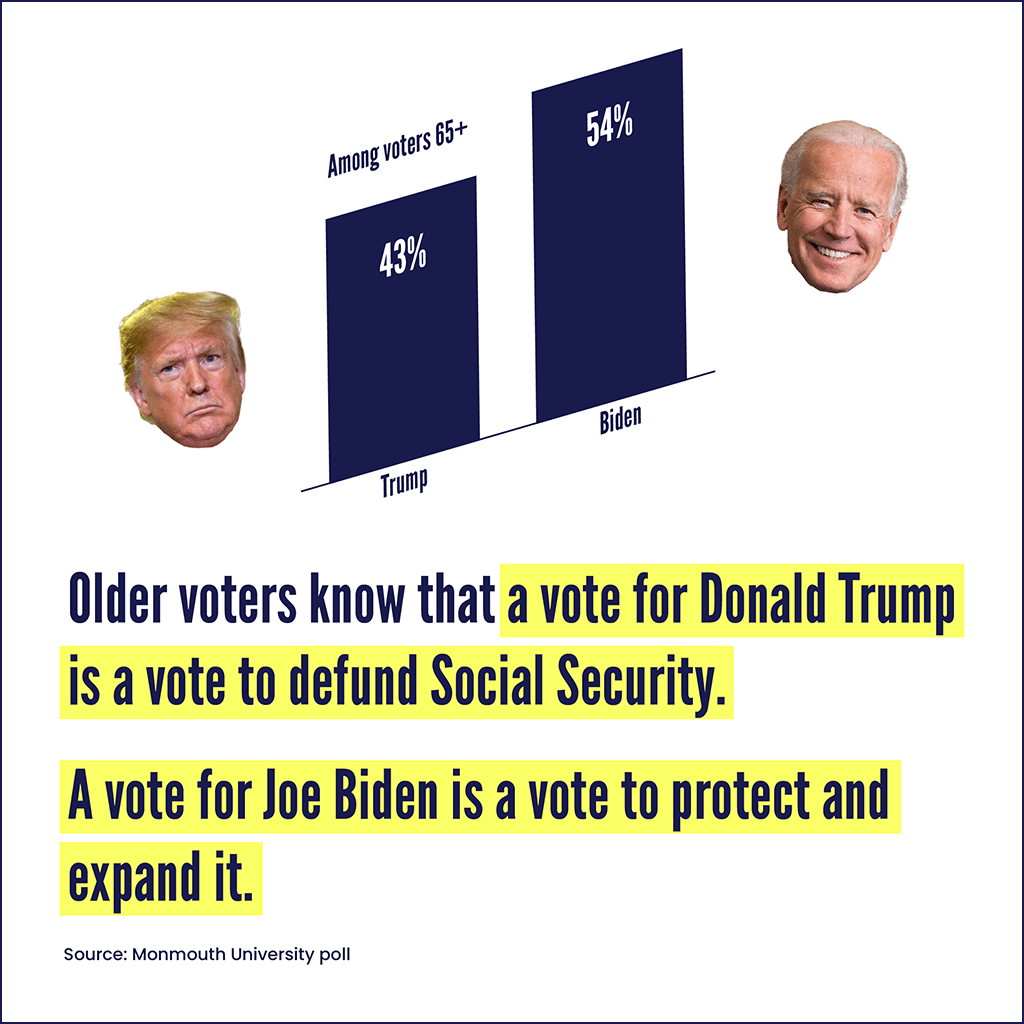 In a tele-town hall hosted by the Alliance for Retired Americans (ARA) this week, former Secretary of State Hillary Clinton joined AFSCME President Lee Saunders to urge retirees to marshal their voting power next Tuesday to elect Joe Biden president and Kamala Harris vice president.
"If we want a strong economy that works for everyone, we need a strong labor movement," Clinton said during the event Wednesday. "Alliance members are the heart of that movement. You've made the difference in electing candidates that support older Americans to protect pensions, Social Security and Medicare."
AFSCME Retirees are proud members of the ARA, a grassroots organization that fights on behalf of seniors. Many retirees are already choosing to vote for the Biden-Harris ticket over the Trump-Pence ticket. Here's why.
Clinton applauded retirees for their activism in the past and pointed out that one in every three voters in this election will be over the age of 65.
In addition to reversing course on the inaction and ineptitude of the current administration's handling of the pandemic – a pandemic that disproportionately harms seniors – Clinton made a case for how Biden and Harris will protect Social Security and Medicare instead of gutting them.
"They are the leaders to see us through this crisis to build back better," she said. "When we wake up on Nov. 4, let's say we did everything we could do elect Joe and Kamala."
Clinton shared ways in which a Biden-Harris administration will stand up to drug companies to lower drug prices, expand and protect Social Security by making the wealthiest Americans pay their fair share, and also described the many ways seniors can safely vote.
Saunders, a member of the ARA Executive Board, said he's counted on AFSCME Retirees to show up, make their voices heard and get results whenever AFSCME has faced big fights in the past. This election is no different, Saunders said.
"The stakes here are so high, union family. Everything we believe in, everything our unions stand for, all the values we hold in our hearts – it all hangs in the balance," Saunders said. "Joe Biden and Kamala Harris will provide the steady hand and the experience we need right now. They will lead with compassion, empathy and integrity."
The Biden-Harris team is committed to protecting Social Security and Medicare, strengthening the Affordable Care Act and getting the pandemic under control. Their proposals to help older Americans are spelled out here. Unlike the current administration, Biden and Harris understand that a dignified retirement is something Americans have earned and should not be stripped away.
Clinton and Saunders urged seniors not just to vote but also to urge others to vote for Biden and Harris. Click here to learn how to vote in your area.