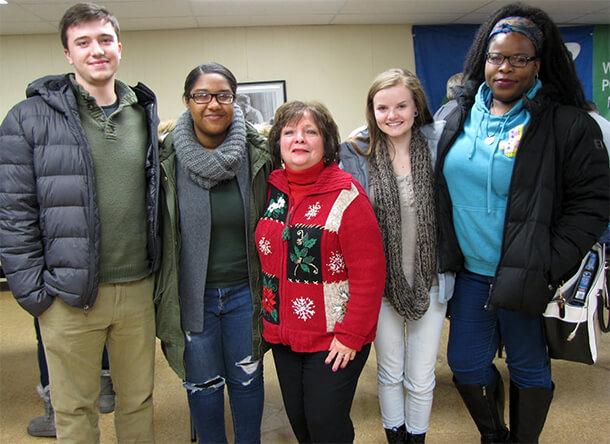 It all began with a visit three years ago. Lynn Loveday, state vice president of Rhode Island Council 94, toured Harrington Hall and was moved by the stories of the residents. Harrington Hall is an emergency shelter — in fact, the state's largest men's overflow shelter.
Loveday was so moved that she promised to keep coming back and to do everything in her power to minimize homelessness in the state. She rallied Council 94 members to give in donation drives to collect much-needed items for the shelters.
Emboldened by the success of past drives, Council 94 endorsed the Zero: 2016 Campaign, aimed at addressing veterans and chronic homelessness. On December 21, Loveday invited state officials to participate at Council 94's annual drive, and their presence cheered the crowd.
Speaking at the event, Loveday explained that Council 94's state, municipal, and private sector members were holding their fourth consecutive donation drive.
"I'm so proud that our members dug deeper and generated even more warm clothing items, toiletries, and … bus tickets. Hundreds of warm clothing items, including jackets, scarves, hats, and shoes were collected. We hope that these donations will provide some warmth during this holiday season to Rhode Islanders who are homeless," she said.
Since the launch of the Zero:2016 campaign, homeless service providers have housed hundreds of Rhode Islanders. Thanks in part to the campaign, 389 homeless veterans and 456 chronic homeless individuals now have a place to call home.