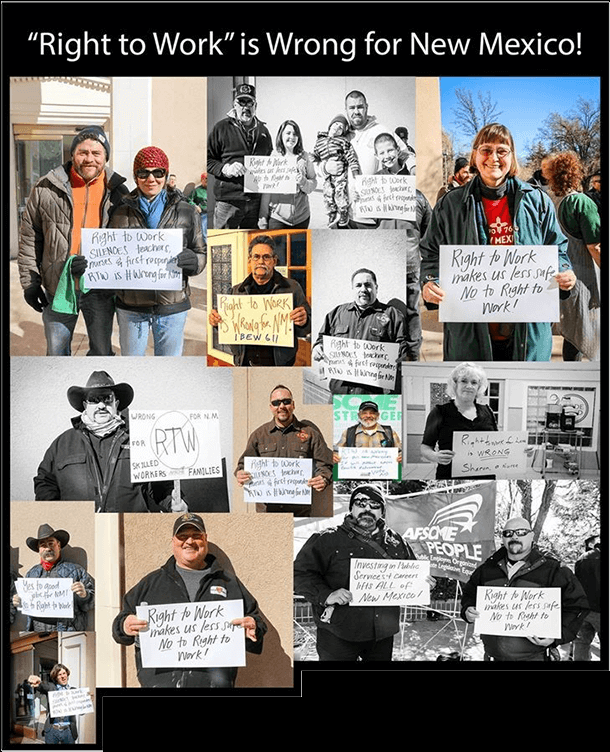 SANTA FE, N.M. – For the second year in a row, so-called "right-to-work" legislation was beaten back by pro-worker lawmakers. After weeks of lobbying by labor and community groups, the New Mexico Senate Public Affairs Committee effectively killed the bill on a party-line vote.
Union leaders and working families suspected that worker protections, benefits, pay and even job security would be at risk during the legislative session, and they made their voices heard loud and clear. From the moment the bill was introduced, workers mobilized thousands of calls, letters, emails and personal visits to key legislators to ensure that collective bargaining was protected.
"It's no secret that New Mexico is last in line when it comes to recovery from the recession," said Casey Padilla, president of AFSCME Council 18, during a rally before the hearing. "Lowering and cutting wages for those who are already working doesn't get us any further ahead. Hopefully, as more workers speak out like today, anti-worker politicians will begin to understand the right-to-work scam is wrong for New Mexico."
"Corporate CEOs and out-of-state interests who are pushing these types of bills across the country don't know New Mexico like we do," said Deborah Haaland, chair of the state Democratic Party. "Everyday heroes like teachers, nurses and firefighters have families that count on them, but right-to-work laws lower their wages. Right-to-work just creates government overreach into important conversations between working people and their employers that keep workplaces safe and running soundly."
Dozens of AFSCME members joined more than 75 other union members the day of the hearing for a rally and packed the committee room for hours of debate on the bill. Five Democrats in the Senate Public Affairs Committee voted to table the bill, overriding the four Republicans who voted to keep the bill alive.