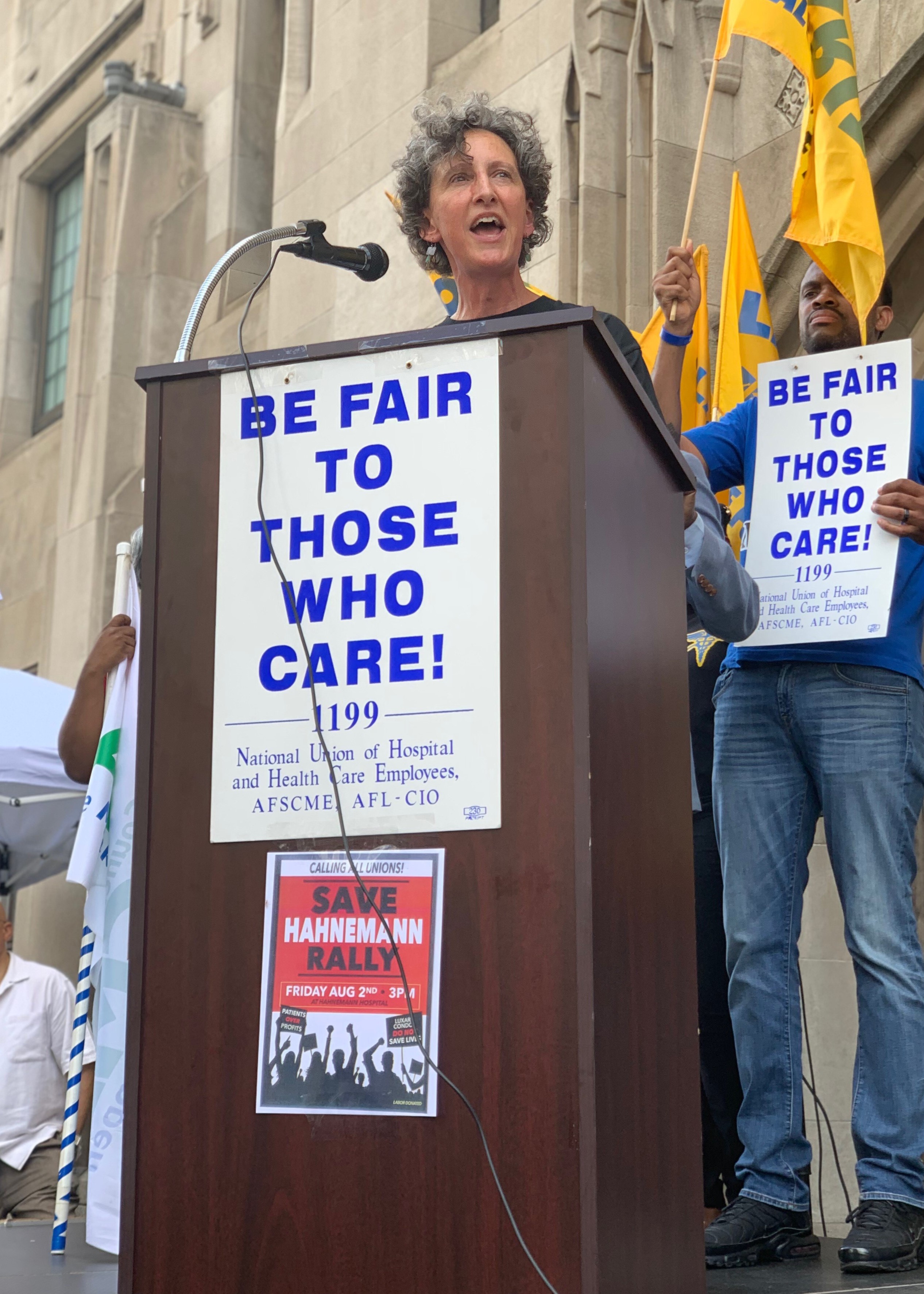 In a rousing speech to the members of NUHHCE District 1199C and other labor unions who are fighting to save a Philadelphia hospital, AFSCME Secretary-Treasurer Elissa McBride stressed that community health should take precedence over corporate profits.
"I bring a message of solidarity from AFSCME's president, Lee Saunders, and the 1.4 million AFSCME members from coast to coast who stand with you in this struggle," McBride said Friday at the Rally to Save Hahnemann Hospital.
Introduced by NUHHCE District 1199C President Henry Nicholas, McBride addressed a passionate crowd of union members and worried residents. A total of 700 members of District 1199C could lose their jobs if Hahnemann University Hospital closes. Most of them provide in-patient transport, nutrition and environmental services.
"We are here to stand up against the private equity fat cats who are ripping off this city," McBride said. "Are you here today to stand up for good jobs? Are you here today to stand up for your patients? Are you here today to stand up for your community? … We are here today to send a message — a strong message: Anyone who wants to destroy good jobs and public health in our communities has to come through us first."
Other speakers at the rally included Nicholas; and leaders from the Philadelphia Central Labor Council, Laborers International Union of North America (LIUNA), Coalition of Black Trade Unionists (CBTU), International Brotherhood of Electrical Workers (IBEW), and local and state elected officials.
NUHHCE and the Pennsylvania Association of Staff Nurses and Allied Professionals (PASNAP) are asking city and state officials to ensure that the property remains a health care facility. Founded in 1848, the hospital has long served low-income Philadelphians. 
PASNAP said in a news release that the owner of the facility, which is scheduled to close next month, is interested only in making a profit and that retaining the historic property as a hospital would enable Drexel University or some other "responsible buyer" to buy it. The hospital is $300 million in debt and the owners have filed for Chapter 11 bankruptcy. PASNAP said in the release that Hahnemann's closure would place a big strain on other facilities. All the hospitals in the city already have emergency room wait times that exceed the state and national averages.
Pennsylvania Attorney General Josh Shapiro and Gov. Tom Wolf have filed objections to the court-accepted hospital closure plan, which awaits approval from the state Department of Health and the Philadelphia Health Commissioner's Office. A host of state lawmakers have told the governor that Hahnemann's closure would create a "bona fide public health emergency."
McBride urged workers to keep up their fight.
"We demand that health care is accessible to the people in this community," she said. "We demand fairness for the workers of Hahnemann Hospital. Because we don't put money over medicine. Because we don't put profits over people. Because we don't put corporate greed over human need."