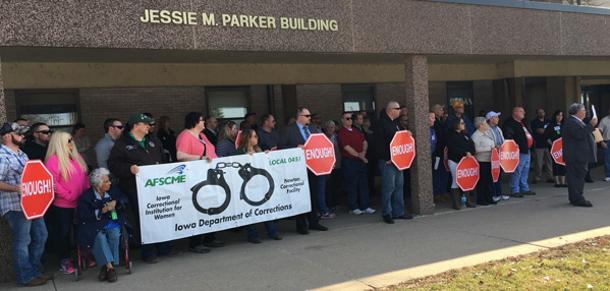 DES MOINES, Iowa – The concerns of AFSCME Local 451 members could be summed up in one word: "Enough!"
After a fight in the dining room at the Iowa Correctional Institution for Women (ICIW) resulted in injuries to four staff, two of whom had to seek medical treatment outside the facility, and the escape of two inmates from the Correctional Release Center at Newton Correctional Facility, they knew it was essential to raise public awareness of the challenges they face every day at work.
"We have been worried about staffing issues for a long time. After the fight in the dining hall, members came together to support everyone who was hurt," said Lisa Anderson, a correctional officer at ICIW and member of Local 451 (AFSCME Iowa Council 61). "We knew that we had to make sure the public knew about our concerns about safety."
After discussions with council staff, the local's members created a petition calling on the Iowa Department of Corrections to issue pepper spray to ICIW staff and to address critically low staffing in correctional facilities and community-based corrections. Local 451 members recruited members, friends and family to attend a Rally for Staff Safety outside the Department of Corrections Central Office on March 9.
At the rally, AFSCME Council 61 Pres. Danny Homan announced that the Department of Corrections had reversed its position and will allow ICIW and North Central Correctional Facility staff to carry pepper spray, as staff do at all other DOC institutions. Homan is also an AFSCME International vice president.
However, staffing remains critically low, which endangers staff, inmates and the public. For example, the Iowa State Penitentiary had 570 staff at the end of fiscal 2003, but only 394 staff at the end of fiscal 2015, according to payroll records.
"No state facility should be understaffed," said Homan. "We need to provide the appropriate staff so that these hardworking folks that are here behind me can go do their job in a safe environment."
At the conclusion of the rally, members delivered a petition with 601 signatures to Deputy Corrections Director Dan Craig.