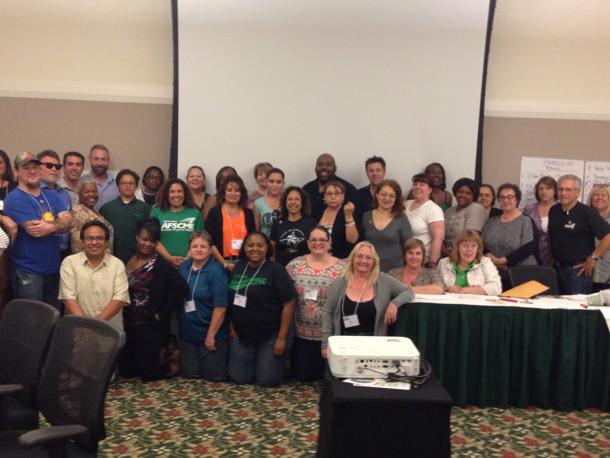 Using AFSCME Strong campaign tactics to energize and mobilize members, Local 101 (Council 57) was able to win 9 percent wage increases during the three-year term of a new contract for San Jose city workers. Besides the long-overdue pay raise, the contract includes basic health insurance and retirement benefits for part-time workers, who account for nearly half of the city's 3,000 workers.
The San Jose campaign is one of the latest in a series of successful efforts for members involving the AFSCME Strong training. It happened in Maryland when Gov. Larry Hogan tried to take away a hard-won 2-percent raise from state and university employees. And it happened in Jefferson County, Kentucky, when the public school board threatened furloughs, prompting direct action by workers.
In San Jose, Local 101 had faced years of hostile relations and vicious attacks on workers' rights and public workers' pensions. For the contract campaign this year, Local 101 mobilized AFSCME Strong coaches and activists to motivate city workers with one-on-one conversations, engaging them for a series of solidarity actions that pressured the City Council into doing the right thing.
Part-time workers also were instrumental in winning the new contract, with many of them signing up to become full AFSCME members and PEOPLE contributors.
Taking on local workplace issues together, joining hands to improve our lives, fighting for our families and our future – that's what it means to be AFSCME Strong!
To learn more about AFSCME Strong, check out this video.