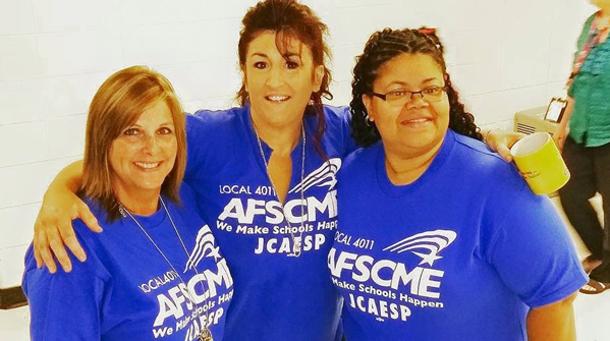 Sandy Mayes comes from a union family. Her dad, a machine adjustor for an aluminum company, was president of his local, and so she and her siblings went to every union meeting he had.
"It was predominantly women in the local, so we got to see all the struggles that women were having and it motivated us kids to become union members," she says.
Today, Mayes is president of AFSCME Local 4011, the Jefferson County (Kentucky) Association of Educational Support Personnel. She is a teacher assistant for the public school system, where she's worked for 24 years. She says women workers have come a long way since the days when her father was fighting alongside them for equal wages, but there's still more work to be done.
"There are men who work in our public school system who have no bachelor's degree and get paid more than women who have a bachelor's degree," she says. "That's part of what motivates me to be involved in my union."
Last year, Mayes led her coworkers in Local 4011 to successfully fight a furlough threat. And this year, with upcoming contract negotiations, they rallied before the school board to draw attention to the county's poverty-level wages, short-staffing and an increase in classroom responsibilities. Recently, the county laid off all school bus monitors, changed their job descriptions, and will make them reapply for their jobs, with no guarantee that they'll be employed.
"Some of them have worked for the schools for 25 or more years," Mayes says. "We're fighting to stop that. They can't just get rid of whoever they want to."
In fighting off these threats, Mayes says the AFSCME Strong principles have played an important role. Through one-on-one conversations, they've not only signed new members and re-signed many existing ones, but they've increased the worker presence at their rallies and thus the strength of their public force.
"We usually don't negotiate our contract until the summer, but since our rally two weeks ago, the administration has set up meetings in the spring, which is amazing," she says. "Great things came out of that rally."
Mayes says she took the AFSCME Strong training twice, including at the Women's Leadership Conference, and thought it was great. Since then her 3400-member local has achieved more than 2,000 recommitments and signed up 500 new members. Mayes thinks they can achieve 95 percent membership.
"Everything we learned, if you put it into practice, it will work," she says. "It motivates you to do things you slacked on before, like one-on-one conversations. I think a lot of times we do too many emails and put stuff on our website. But actually talking one-on-one and going to the schools has made a big difference."
Just like she followed in her dad's footsteps, her children are likely to follow in hers. One of her daughters works as a secretary for AFSCME and her son is a union member in the private sector. A third child helps in political campaigns.
"My daughter and her girlfriend and their kids came to our last rally," she says. "My daughter gets mad if she doesn't get to come to them. She's seen what the union has done. My pay was very low when I was raising them, and now that they have their own families they see how important it is to make a decent salary for what you do."