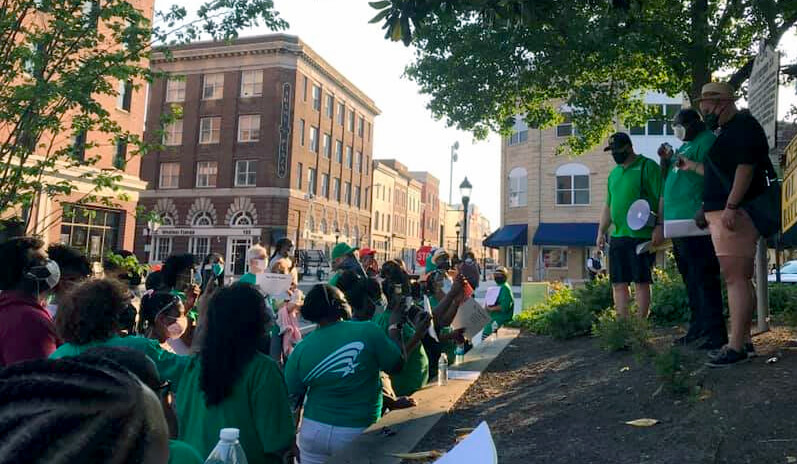 Members of AFSCME Maryland held a car caravan in Maryland's Eastern Shore to protest insufficient action by Gov. Larry Hogan to combat the coronavirus pandemic and honor George Floyd, the unarmed African American who died in police custody in Minneapolis.
AFSCME President Lee Saunders joined the caravan on Thursday to pay homage to Floyd and call on Hogan to take action and offer more than just empty promises to Marylanders.
Despite the risk to themselves and their families, AFSCME Maryland's members – like front-line AFSCME members across the nation – have proven that public service workers can and will step up selflessly to the challenge of protecting our communities during the coronavirus pandemic.
"That's what you do when public service is your calling – you put the health and safety of your communities first," said Saunders. "The problem is that we don't have enough politicians with the same courage. The problem is that we don't have enough elected officials who honor your sacrifice." 
This direct action from AFSCME Maryland is a response to Hogan's refusal to fix the long-term underfunding of Maryland's public services at a time the state lacks the resources it needs to reopen safely.
However, this caravan was not just about continuing to pressure Hogan on his poor leadership during the pandemic.
In deference to the broader cultural moment and protests surrounding the violent death of Floyd and other African Americans in recent weeks, AFSCME Maryland's caravan was also focused on racial justice.
"We will not rest until our leaders answer our calls for racial justice," Saunders said. "Once again, we're being presented with a false choice, which our union has always categorically rejected: the idea that public safety is incompatible with basic civil rights. The truth is: a healthy society can and must have both."
Further, as has been shown in various studies and articles since the pandemic began, the COVID-19 crisis is closely connected to racial and economic disparities and has resulted in African Americans being affected much worse than other groups.
The caravan began at the University of Maryland-Eastern Shore – a historically black university that has long been a vital cultural anchor in Maryland and is one of the nine public universities where AFSCME Maryland represents workers. The caravan also visited an NAACP-proposed location for a memorial to honor the victims of lynching in Wicomico County.
Recognizing the history and struggle of blacks is vital in achieving social justice – and is something AFSCME remains wholly committed to as economic and social justice are tightly connected.
Further, the call to fund the front lines is not only good for workers – it is a moral call for the leaders in Maryland and the United States to take much-needed action to put America on a path towards recovery.