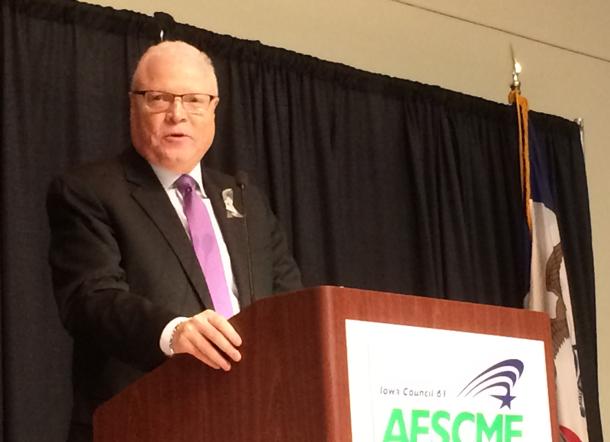 This legislative session, Iowa's working families have been under relentless attack from extremist legislators and their corporate-funded allies. By passing a draconian, Wisconsin-style law decimating collective bargaining, gutting the state's worker's compensation system and pursuing restrictive voter suppression legislation, Hawkeye State lawmakers have made it harder than ever for working people to make their voices heard.
But on Wednesday, to a packed house of over 200 AFSCME Iowa Council 61 members, AFSCME Pres. Lee Saunders brought a message of defiance and solidarity.
"As long as I'm president, the national union will have your back and stand shoulder-to-shoulder with you. That's a commitment from me and all 1.6 million members of AFSCME as you pursue every remedy or recourse. We are in this together," he said.
Key to expanding Council 61 will be continued engagement in the face-to-face conversations that built the council into a powerhouse, Sanders said.
"We are doubling down on the AFSCME Strong program that has reinvigorated our union through one-on-one, eye-to-eye, heart-to-heart conversations," Saunders said. "By going back to basics and reconnecting with our members – educating, engaging and inspiring them – we are building union power and a new generation of activists."
Council 61 has been a model for standing together and speaking up for stronger communities. Throughout this legislative session, thousands of members across Iowa visited their legislators in Des Moines, attended local legislative forums, wrote letters to newspapers and talked to their neighbors about the vital public services they provide. You can read previous stories about their legislative activities here and here.
They continued their legislative push this week. About 200 members of Council 61 – all wearing AFSCME green – worked the halls of the state capital to persuade lawmakers to protect worker's compensation for Iowa's families and the state's well-functioning pension system.